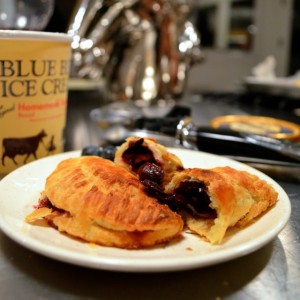 We love all berries. Strawberries. Blackberries. Halle Berries. Rachel Berries. All of them. So, naturally, when deciding which berries to select to wrap in this delicious, flaky, buttery dough, we couldn't choose just one.
These require a bit of leg work. And we don't mean scissor kicks on the kitchen floor. But, the result is totally worth it. Sure, there's rolling of dough that seems terrifying at first and leaves your kitchen looking like it's the 80s and a bunch of fashion models just pre-partied all up on your granite countertops, but again, these berry-filled concoctions are king.
These actually reheat VERY well, so do the work and savor the fruits of your labors for days to come, but we highly doubt they last that long.
berry berry empanadas

makes about 24 empanadas

For the dough:
3 ¾ cups all purpose flour
1 ½ tablespoons sugar
1 ½ teaspoons salt
1 ½ cups unsalted butter, cut into small cubes
about 1 cup buttermilk
For the filling:
2 cups strawberries, stems removed and diced
1 cups blueberries, roughly chopped
1 cup sugar
1 tablespoon honey
1 tablespoon cornstarch
1 teaspoon orange zest
Preheat oven to 375 degrees.

Prepare dough by combining flour, salt and sugar in a medium mixing bowl. Using a pastry cutter (or two forks) quickly incorporate the butter until the butter clumps resemble a pea sized corn meal. Then add the buttermilk and stir until the mixture starts to come together. Turn onto a lightly floured surface and knead a few times. The less you work the dough the better. The more you work the dough, the more the butter melts and less flaky and light your crust will be.

Separate the dough in half and wrap each portion in saran wrap. Press into a disc and chill in the refrigerator for about an hour. If you're running short on time, put them in the freezer.

Meanwhile, combine all the filling ingredients and set aside. Let sit for at least 30 minutes. If the mixture looks too soupy, drain off the excess liquid.

Lightly dust a clean surface with flour and begin rolling out one of the discs of chilled dough. Work as quickly because you want the dough to be as colld and underworked as possible. Spread dough out and use a 4-5″ round cookie cutter (or bowl in our case), to cut dough into discs.

Spoon about 1-2 tablespoons of the berry mixture into the center of each disc, and then brush egg was all around the edge. Gently fold the disc onto itself and using a fork, push down the edges to seal the empanada. Brush the outside with egg wash and place on a cookie sheet sprayed with non-stick spray.

Bake for 15-20 minutes, or until golden brown. Remove, let cool slightly and serve with whipped cream or ice cream.