"pickled" oven-fried chicken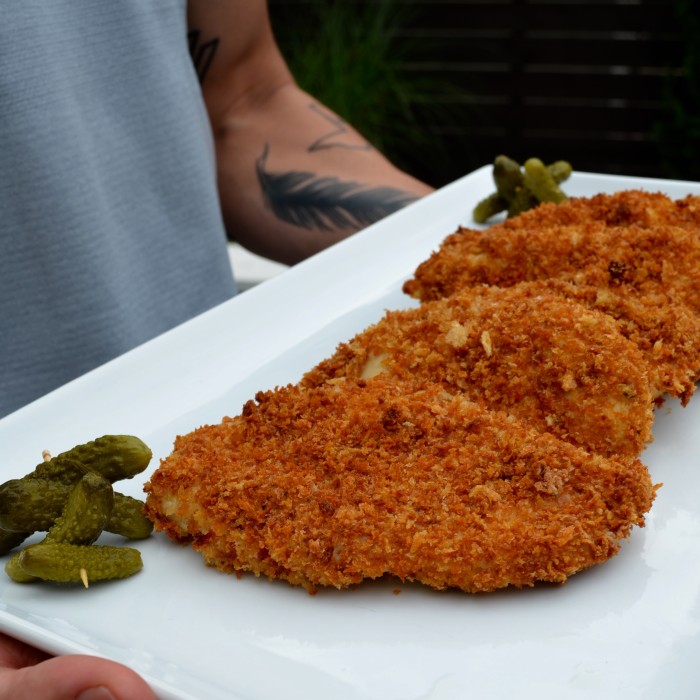 If we had a dollar for every time we've thrown a shade-filled eyeroll at an 'oven-fried' recipe (knowing it's nowhere close to the bubbling, hot, greasy, REAL fried experience), we would have enough money to afford the liposuction we would need if we ate the buckets of deep fried goodness we really want.
But we stand in front of you corrected. This recipe is a marriage of a Martha Stewart recipe and a Chick-Fil-A chicken sandwich copycat recipe. And THAT, friends, is a good thing. The pickle juice marinade really makes these truly amazing. If you close your eyes and take a bite, you would swear you were at Chick-Fil-A. We ourselves, haven't shadowed the door since they pissed off the Gay Mafia.. and miss it so much.  Also, while we're on the subject, depriving the public of what would be AMAZING hangover food on Sundays is the true sin, people. So selfish.
This baking/convection broiling technique is also great for making A LOT of chicken. You can double the recipe easily, and other than washing your doughy, egg-crusted breadcrumb fingers the work is on the light side. These evenly magically reheat better than some recipes, without tasting and feeling like a thick slice of truck tire. We have used them in sandwiches, as a meal prep protein, and have been known to just quickly shame eat all the delicious remnants of crust left on the baking sheet the second one of us is alone in the kitchen.
"pickled" oven-fried chicken
serves 8
8 chicken cutlets
1 cup dill pickle juice
3 cups panko breadcrumbs
¼ cup olive oil
kosher salt and black pepper
3 eggs, beaten
1-2 cups all purpose flour
Preheat oven to 400 degrees.
Trim cutlets of any excess fat and, if necessary, wrap in plastic wrap and pound to an even thickness with a meat mallet. Place cutlets and pickle juice in a large ziplock bag and refrigerate. Let marinate for 1-2 hours, turning bag once.
While chicken is marinating, combine the bread crumbs and olive oil in a large mixing bowl. Mix well to evenly saturate the bread crumbs. Spread mixture in a thin layer on a baking sheet and bake until lightly toasted, about 10 minutes, tossing halfway through it not browning evenly. Set aside.
Raise oven temperature to 450 degrees (use your oven's "convect broil" feature if you have it, if not, the regular bake setting works fine). Remove chicken from brine and pat dry with paper towels. Season generously with salt and pepper. Line flour, eggs and toasted panko up in three separate dishes. Begin by dredging cutlets one at a time in flour, then egg, and finish by pressing into panko mixture. Place on a baking sheet lined with a wire rack and bake in the lower portion of the oven for 10-12 minutes or until internal temperature reaches 165 degrees (watch very closely if using the broil feature). Turn cutlets halfway through cooking time. Leave on wire rack to cool, this will keep the breading from becoming soggy.