Temptation is everywhere. There are strategically placed McDonald's whose golden arches taunt us on the way to and from the gym. Nothing validates double-fisting two Big Mac value meals like a half-assed workout.
Despite the fact that Ronald McDonald is John's longest, most stable male relationship, we must force ourselves to refrain. Lucky for you, Kyle is in a slightly more significant relationship with a very different clown-like ginger. Kyle's husband, Dean, thought up this simple and healthy alternative to a post-gym-pump cheat meal.
Not to be out done on our own blog, we amped up the salad by creating a copycat recipe of the classic Big Mac sauce. No, it isn't Thousand Island dressing.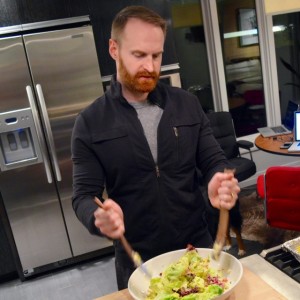 healthy big mac salad
serves 4 
1 pound lean ground turkey (we use 93/7 fat content)
1/2 teaspoon salt
1/4 teaspoon pepper
1/2 teaspoon garlic powder
1/2 teaspoon smoked paprika
1 egg, beaten
6 cups loosely packed butter lettuce
1/2 cup dill pickle slices, drained
1/2 cup cherry tomatoes, roughly chopped
1/4 cup white onion, finely chopped
1/4 cup cheddar cheese, grated
1 large avocado, sliced
4 slices bacon, cooked and crumbled (optional)
dressing
2/3 cup fat-free mayonnaise
1 tablespoon dill pickle, finely chopped
1 tablespoon minced white onion
1 tablespoon ketchup
1 tablespoon yellow mustard
1/2 teaspoon Sriracha
2 teaspoons dill pickle juice
2 teaspoons garlic powder
Preheat oven to 425 degrees.
In  a medium bowl, combine the ground turkey, salt and pepper, garlic powder, paprika, and egg and mix well. Divide out into 8 sliders, about 1/4 cup each. Place on a rack on a baking sheet that has been generously sprayed with non-stick cooking spray.
Place in oven and bake until patty temperature reaches 165 degrees, about 14-16 minutes.
Meanwhile, combine all of the dressing ingredients in a small mixing bowl. Whisk thoroughly. Cover and keep refrigerated until ready to use.
When the patties are done, turn on the broiler, sprinkle some shredded cheddar cheese over the top and place in oven for about a minute. Remove and let cool slightly.
Finally, in a very large bowl, combine the lettuce, pickle slices, tomatoes, and white onion. Use desired amount of dressing, (we used almost all of it and saved a little bit to dollop on the patties), and toss salad until evenly coated. Portion out, top each salad with 2 patties each, garnish with remaining cheddar cheese, avocado slices, and bacon (if using).