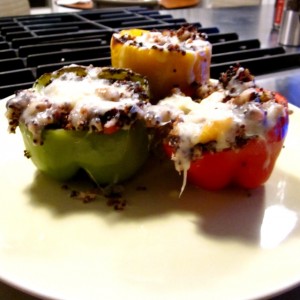 This recipe is a throwback to growing up in the Midwest and all the amazing, delicious, incredibly hi-caloric meals we ate gathered around the dinner table. Well, my family was around the table. I was practicing my baton twirling in the closet. Literally. It was a REALLY big walk-in closet.
I mean how unhealthy could you make a bell pepper, really?! Well first, you sautéed it in butter or bacon fat, then stuffed it with a mixture concocted of fatty ground beef, white rice, ketchup and of course, fistfuls of cheese. Then topped it with additional cheese to serve. It. Was. Delicious.
Alas, an adult gay that has stereotypes to live up to in "the city" simply cannot afford to eat said deliciousness. At least not until FATember. More to come on this later. So, what we've done is take a classic recipe, and transformed it into something healthy, and almost elegant. You won't even have to close your eyes and imagine it's something far more decadent and naughty… You do that enough already.
fit stuffed bell peppers
makes 8 bell peppers
8 bell peppers, assorted colors
1 pound ground turkey
1 pound Italian turkey sausage
1/2 small white onion, chopped
1 bunch green onions, chopped (white ends removed)
1 4.5-ounce can chopped green chiles, drained
1 14.5-ounce can chopped tomatoes, undrained
1 cup quinoa
8 tablespoons chicken or beef broth
salt and pepper, to taste
1 tablespoon olive oil
1 cup Monterey Jack cheese
Preheat oven 350 degrees.
Prepare quinoa according to packaging instructions, set aside.
Cut off the tops of peppers. Remove stem from tops and chop enough tops to equal 1/2 cup. Set aside. Trim veins and fiber from bottoms of peppers and submerge in boiling water for 5 minutes to cook, drain on paper towels. When mostly dry, set peppers cut side up into 13×9 baking dish. Salt peppers.
Heat 1 tablespoon of olive oil over medium heat and sauté chopped pepper tops, onion, green onion, and chiles until tender, approximately 10 minutes. Add ground turkey and turkey sausage, season lightly with salt and pepper and cook until browned.
Add tomatoes and cooked quinoa and simmer, stirring constantly for an additional 2 minutes. Spoon mixture into standing bell peppers and if any mixture is left over spoon into pan between peppers. Pour 1 tablespoon of broth into each filled pepper.
Cover with foil and bake for 25-30 minutes. Uncover, sprinkle cheese over top of peppers and return to oven uncovered until cheese is melted.