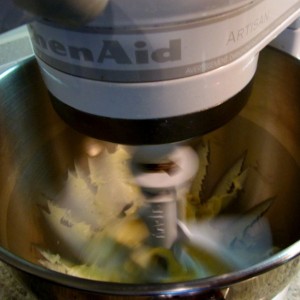 Last year for my birthday, my close friends got together and bought me a KitchenAid mixer. It was a kitchen queer's wet dream come true!
I was new to baking and this little gem was to adorn my countertop for years to come. I have since become a pretty skilled baker and make it a point to make each of them a birthday cake to make them fat thank them.
One of my friend's, a fellow baker, recommended immediately that I purchase a beater blade.
Best. Purchase. Ever.
It basically works EXACTLY like the paddle attachment that comes with your KitchenAid, but better! The edges are fitted to actually scrape the sides for you so you don't have to try to get a spatula in there and get it caught up in the blade. True story. No recipe ever told me to turn it off and THEN scrape down the sides.
I bought my off-brand beater blade on amazon.com for around $18 (center), Kyle recently purchased a "KitchenAid Flex Edge Beater" at sur la table for around $30 (right). I've even seen my beater blade at HomeGoods many times.
Regardless of the brand or price, this thing WORKS, y'all. I should or could probably throw away my old paddle attachment completely, but I know I'll need it for something obscure the day after I do. Any baker (or KitchenAid mixer owner that leaves it out on the counter to look fancy) needs to add this to his or her assortment of cookware crap IMMEDIATELY.