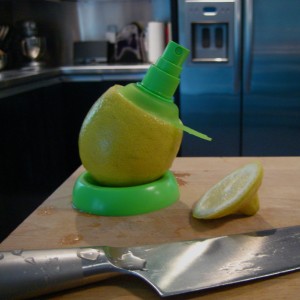 Well, sonofabitch! This thing actually works!
I'm always skeptical about things that seem too great (or cool) to be true. So when I came across this little beauty in the latest Sur la Table catalog (AKA hardcore porn to a kitchen queer), I wasn't buying it. Literally or figuratively. But I thought to myself, "If this does in fact work, just think of all the things I could spray…"
And spray I have.
This simple, yet genius, design only requires slicing just the tip off of a lemon or lime (there are two different sized sprayers for each) and screwing the top into the end. Then you simply give that fruit a squeeze and get to spraying. There are so many possibly inappropriate puns in this paragraph, my head almost exploded.
So far, I've only sprayed some lime into my pinot grigio. Delicious! And lemon juice over some roasted broccoli and part of my face. Helpful Tip: double check that the nozzle is pointed away from your eye region before pressing. But I'm already thinking about all the things you could do with this:
Lime:
Over fresh guacamole to keep from browning
On the rim of your margarita before salting
Over ANY salad
Fresh popped popcorn with queso fresco
Roasted corn on the cob
Cheap pinot grigio – this one's my favorite so far!
Lemon:
Again, ANY salad
Roasted greens (e.g. – broccoli, asparagus, Brussels sprouts)
Salmon (or any finished fish)
The possibilities are endless. Use the comments to share the other ways you can think to use this amazing find. In the KITCHEN, NOT the BEDROOM.
Go get you one here.
*We are not compensated to promote any of the products you see on our site. However… if you'd like to throw some cash our way, feel free.