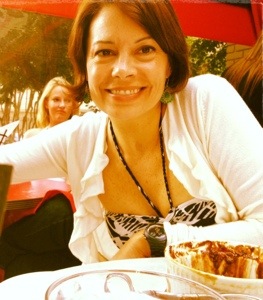 Julie started her radio career in Atlanta, Georgia in 1990. Radio has taken her from Charleston, South Carolina to Albuquerque, New Mexico before landing in Dallas, Texas.
She's been on the air in the Metroplex since 1998 and is currently the Film Critic and Morning Traffic Reporter for 1080 AM KRLD and is now also sharing her sharp, witty theatrical thoughts here on queer in the kitchen.
She'll be telling you should or shouldn't miss in theaters weekly, and we'll be telling you what related food you should or shouldn't put in your mouth to accompany these films.
Julie is married with 2 little girls, who ask her the most bizarre questions daily. Julie likes to spend her spare time exercising, then cooking & eating food that negates the earlier exercise.