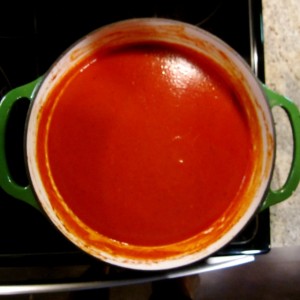 My friend, Rio, is all things fabulous (AKA – the ultimate Fag Hag). She's half Italian, half Irish. So, basically the WORST drunk ever. Luckily, her half Italian side has produced one my go-to recipes.
This marinara sauce is delicious and almost embarrassingly easy. Granted, this is the "easy" version of a safely guarded Godfather-esque family recipe. The ingredients are few and the measurements so imprecise, you know an Italian thought this up.
I always double this recipe and freeze half of it for future nights where I don't have as much simmering time.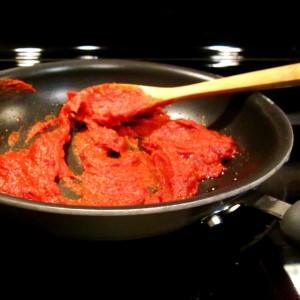 PS – Please urge Rio to give me back my "gay card" because I had to ask her what a "Karl Lagerfeld" was… I asked, but she ignored me.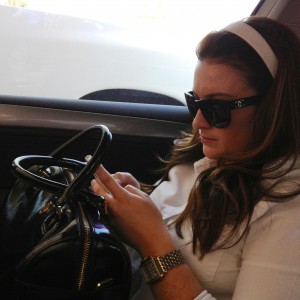 rio's marinara sauce
makes about 8 cups sauce
2 – 29-ounce cans Hunts tomato sauce
1 – 6-ounce can of tomato paste
1 tablespoon garlic powder
1 tablespoon Italian seasoning
1/2-1 teaspoon red pepper flakes, depending on heat tolerance
1/2 tsp black pepper
3 bay leaves
3 tablespoons sugar
1 tablespoon olive oil, for frying
In a large, heavy-bottomed pot, pour in the tomato sauce. For most flavor, simmer all day long and add two full cans of water to the pot. If you're wanting to cook the sauce only a couple of hours, add less water.
Add seasonings. Like any good Italian, Rio failed to give me any ACTUAL measurements. Things like 'cover the top' or 'probably a good amount' do not exact measurements make. I've found the ones listed above work well, but adjust to your personal taste.
Simmer over low heat for at least 1 hour, but the longer you simmer the more amazing it will be. The last time I made this, I had to run to the gym because I hate my body, so I threw all the ingredients together on the stove, brought the sauce to a boil and covered it and put it in the oven on its lowest possible temperature setting (mine is 170 degrees) for a couple hours. Reason #568 why I love my Dutch oven. I then continued with the next step.
About 1 hour before serving, over medium heat, add the olive oil to a frying pan. Add the tomato paste. You do NOT want the paste to brown, so low heat is key. The longer you fry the paste, the more flavor this gives the sauce, usually 20-30 minutes.
Add the paste to the sauce and simmer at least 30 minutes or until you're ready to use it. Once you add the paste, be prepared for the sauce to splatter while simmering because it gets so much thicker from the paste.
Serve over any pasta of your choice! Later posts will refer back to this recipe A LOT! This is great for pasta bakes, lasagnas, a pizza sauce, or even just throw a little browned ground beef in for a really good meat sauce!