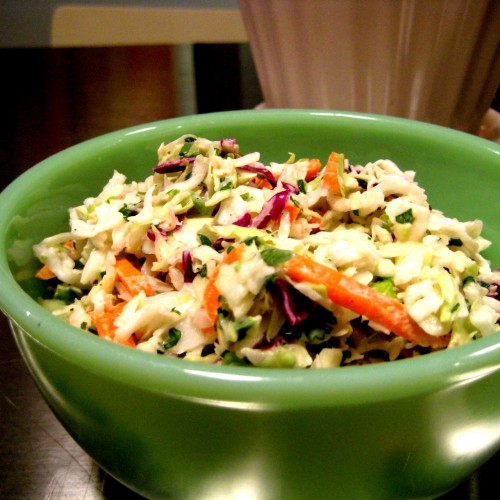 This past 4th of July, Kyle and I went to a friend's for an old fashioned, supes American barbeque. While I have yet to unlock the secret to one of the host's grilled chicken that was somehow more moist and delicious than some cake batter I've eaten, I fell in love with my friend's cole slaw

This recipe originated from dear friend and fellow kitchen queer, Robby. The beauty of this cole slaw is its simplicity. If you happen to be hosting a barbeque and can't be bothered with a difficult spread or need a low maintenance, yet impressive, side dish for some mandatory potluck, invite Robby… or at least bring his coleslaw along.
robby's cole slaw
6 cups cole slaw mix, shredded
1 large jalapeno, finely chopped
1 bunch of cilantro, chopped
1/4 cup mayonnaise
3 tablespoon sugar
1/4 cup half and half
juice of two lemons
3 teaspoons white vinegar
1/2 teaspoon salt
1/4 teaspoon pepper
1/8 teaspoon celery salt
In a large bowl, combine cole slaw mix, jalapeno, and cilantro, and set aside. Do NOT devein or seed the jalapeno. I personally can't handle a ton of heat, and this adds none. It just spices it up just enough. Be brave, friend!
In a separate bowl, whisk together all remaining ingredients and toss salad.
Cover and chill for at least 2 hours.
*Robby said he even sometimes buys bagged cole slaw that already contains a dressing packet to make this even faster. (We didn't!) But, no one at your next get together needs to know. Especially, Susan, that bitch from the PTA that thinks she's better than you because her daughter is a cheerleader but isn't even that pretty…