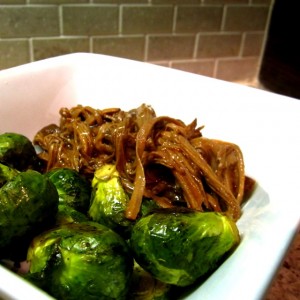 Even if it's a gay that has more styling products, spa appointments, and a tinier dog than the average female, beef is a staple in any MAN's diet.
Now this man took a hunk of beef, spritzed it with broth, sprinkled it with spices, daintily spread zest and was left with a gigantic, tender piece of meat that literally makes you want to slap your grandma.
This basic, uncomplicated take on brisket will be a hit at any get-together. Or I'm sure it'll also be delicious eaten alone alongside your cats while you catch up on "The Good Wife".
zesty beef brisket
serves 5-6
2-3 pound brisket
2 cans beef consommé
1 can beef broth
½ teaspoon onion powder
1 teaspoon ground cumin
1 teaspoon black pepper
2 teaspoons salt
2 Tablespoons Liquid Smoke
2 Tablespoons soy sauce
½ cup orange juice
½ cup BBQ sauce
zest and juice of 2 lemons
zest and juice of 2 oranges
4 cloves garlic, minced
1-2 tablespoons corn starch
Preheat oven to 325 degrees.
Combine all ingredients except corn starch in a large Dutch oven (or any heavy-bottomed, oven-safe pot with a lid.) Place the brisket, fat-side up, in the mixture. Bake for 2 ½-3 hours (or until falls apart when poked with a fork).
When the meat is fall-apart tender, transfer it to a plate and let set for about 30 minutes. While the meat is cooling, transfer the remaining liquid to a saucepan over medium-high heat. Whisk in about 1-2 tablespoons of corn starch to thicken up the sauce. Reduce heat to a simmer.
Scrape off the top layer of fat from the brisket, and using two forks, tear apart the brisket. Pour the thickened sauce over meat and resist the urge to eat with your bare hands.