A beautiful, ditzy funny woman like Holly is always fun to have around. She's from Tyler, Texas and has the face of a model… and the voice of Reba McEntire. Her cute and twangy accent  is so distinct and thick, we half-expected to see "the broth of ten feisty cluckers" somewhere on this ingredients list.
Most jokes aside, we literally had to fight tooth and nail to get exact measurements that city folk would understand. The result is amazing, homey, savory, moist dressing that will compliment any Thanksgiving dinner.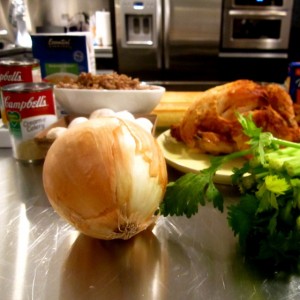 holly's cornbread dressing
serves 8-10
1 rotisserie chicken
1 pound pork sausage, cooked
1 13 x 9 pan of cornbread*
16 ounces low-sodium chicken broth**
2 eggs, beaten
1 tablespoon olive oil
1 can cream of chicken soup
1 can cream of celery soup
1 yellow small onion, chopped
1 cup celery, chopped
1 cup mushrooms, chopped
1 package Lipton onion soup mix
2 tablespoons dried sage, or 4 tablespoons fresh sage, chopped
1 cup pecans, chopped
salt and pepper, to taste
*Store-bought cornbread can be substituted if you're in a pinch. We doubled the recipe on the back of a canister of cornmeal. 
**The rotisserie chicken can add a lot of salt. So definitely use low-sodium broth and take it easy with the salt when seasoning.
Preheat oven to 375 degrees.
In a skillet with the olive oil, saute the onions and celery for 10-15 minutes, or until tender. Meanwhile, remove all meat from rotisserie chicken and shred. In a very large mixing bowl, and crumble cornbread, then add meat and all other dry ingredients, reserve 1/4 cup of pecans. In a separate bowl, whisk all liquid ingredients together until well combined.
Add wet ingredients to dry ingredients and mix until well incorporated. Spoon into a very large greased casserole dish, possibly even two 13 x 9 casseroles.
Cover with foil and bake for 1 hour. Remove foil and bake an additional 15 minutes. Remove pan from the oven and turn broiler on high. Sprinkle remaining 1/4 cup of pecans over the top of the dressing and return to oven for 5 minutes.