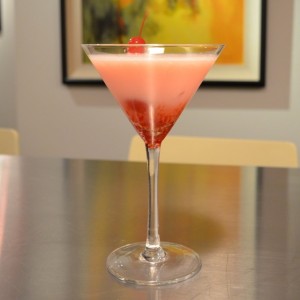 We are deep in the throws of holiday chaos here at queer in the kitchen. Like many people this time of year, the demands we place on ourselves, our family and our livers are at an annual high. There are gifts to be purchased, meals to cook, parties to attend, and most importantly, drinks to be drunk.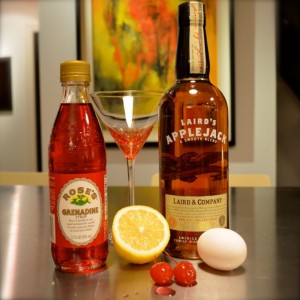 This last part is something we've gotten quite good at (you know the whole "practice makes perfect, blah, blah, blah…") While we consider ourselves accomplished drinkers, we too sometimes find ourselves in an alcoholic rut. It's always a good idea to keep it interesting in the liquor cabinet. Enter this little lady, literally. An old take on an even older drink, but there's a reason it's been around longer than Cher's few remaining original body parts.
pink lady martini
makes one cocktail
1 1/2 ounces gin or vodka
3/4 ounces Applejack*
1/2 ounces fresh lemon juice
1 teaspoon grenadine
1 egg white
maraschino cherries for garnish
*Applejack is similar in taste to whiskey, but slightly sweeter, and is a derivative of apple cider. If you can't find it, substitute Jack Daniels. Either liquor will get you where you want to go.
Pour ingredients into a cocktail shaker over ice. Shake vigorously for at least a minute and strain into chilled martini glass and garnish with cherries.