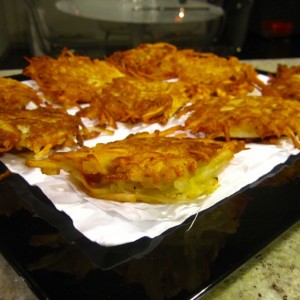 The extent of my knowledge of the Jewish faith or any real Hanukkah traditions (not covered in an Adam Sandler parody song) is slim. But I'm 100% certain that regardless of religious background, everyone can get on board with frying carbs.
I got this recipe from a real-life Jewish friend of mine. She even shamed me when I texted her saying I ate them with ketchup. I was assured I had committed some sort of religious hate crime. Also, calling them "Jewy hashbrowns" is not well received by one of the Chosen People.
So, Sandi we can't stress this enough, avoid cultural/culinary battery and serve these with applesauce or sour cream! These people have been through a lot already. 
sandi's potato latkes

makes 15-18
4 medium Russet potatoes
1 small onion
1/4 cup all purpose four
4 large eggs
1 teaspoon salt 
1/4 teaspoon pepper
1 cup vegtetable oil
applesauce or sour cream, for serving
Peel potatoes and, with onion, shred in a food processor, transfer to a bowl. I lost the 'shredding or whatever' attachment to mine years ago, so I used a mandolin slicer that worked grate. Get it? With paper towels, blot the shredded potatoes and onions to remove as much excess moisture as possible. This helps them fry better.

In a separate bowl, beat together egg, salt and pepper. Stir into potatoes. Sprinkle flour over entire mixture and stir until well combined.

Meanwhile, heat the oil in a large skillet over medium-high heat. Using two spoons, carefully drop mixture (about 2 tablespoonfuls) into hot oil. Cook for about 5 minutes, turning halfway through, until both sides are golden brown.

Drain excess oil on paper towels and serve. Mazel tov!