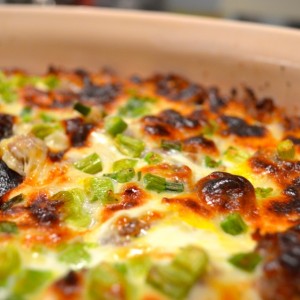 It's that magical time of year again, where there's a chill in the air, a tree in the den, and a perpetually-dwindling bottle of scotch on the counter to match the disappearing anti-depressants in the medicine cabinet. (Thank the baby Jesus for THAT cocktail.)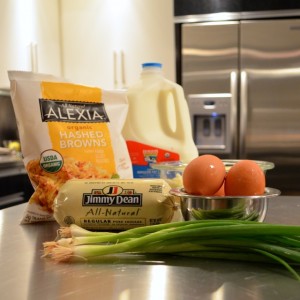 In the small amount of time you're not moving a mischievous, plastic elf NIGHTLY to different locations around the house, or impersonating an obese, geriatric man that magically reads the wish lists inside the convoluted minds of children, you're expected to also somehow birth a delicious breakfast on Christmas morning.
Enter this casserole. It can be made the night before, between glass 6 and 8 of Pinot Noir, and popped in the oven the next morning. Also, trust us when we say that you can totally whip this bad boy up when you're wasted… We've done some research people.
breakfast casserole

serves 6-8
1 pound frozen hash browns
1 pound breakfast sausage (ground, not links or patties)
2 cups mozzarella cheese, shredded
6 large eggs
1/4 cup green onions, chopped
1 cup milk
1/4 teaspoon salt
1/8 teaspoon black pepper
olive oil
Preheat oven to 425 degrees.

In a large skillet over medium-high heat, heat 2-3 tablespoons of olive oil. Add hash browns and cook stirring occasionally until somewhat crisp, about 10 minutes. Meanwhile, in a separate skillet, brown the sausage.

In a medium bowl, combine eggs, milk, salt and pepper. In a large casserole, spread the cooked hash browns in a single layer. Next, layer the cooked sausage, mozzarella cheese, and green onions. Finally, pour the egg mixture over the entire casserole and let sit for 20 minutes. (The recipe up to this point can be made one day prior.)

Cover with aluminum foil and cook for 20 minutes. Remove aluminum foil and continue baking for 25-30 minutes, or until center is set.