http://youtu.be/cAtWcvCxPhc
"Zero Dark Thirty" stars Jessica Chastain as the woman who hunted and eventually found Osama bin Laden.
It's from director Kathryn Bigelow, who teamed with writer Mark Boal in 2008 for "The Hurt Locker" and scored big with 6 Oscars. They've paired up again to tell this story, and it's safe to assume the Academy will come calling again. What Bigelow and Boal do that makes THEIR stories work is they don't embellish. There's no stupid love interest or slow motion Rambo scenes set to patriotic music. They just get in there and kill the shit out of Osama bin Laden, which is INCREDIBLY fun to watch.
They also cast the adorable Chris Pratt as one of the S.E.A.L. Team 6 guys, which is one of the many reasons I'm giving "Zero Dark Thirty" and A+. Yes, that's goofy Andy from "Parks and Recreation" as a Navy S.E.A.L. which is the COOLEST piece of casting ever!
-Julie
Upon reading this review, we immediately thought of pairing it up with something über-American such as apple pie. Unfortunately, we've committed to a month of more health-conscious recipes and while apple pie screams "AMERICA!", so does obese folks riding Rascals around Wal-Mart.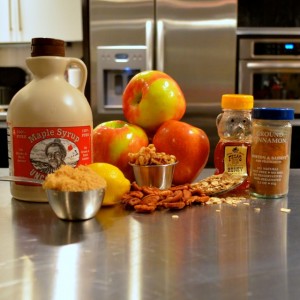 So, not to enable more of that occurrence, we are giving you an apple crisp that has been skinnied up some. Think deconstructed apple pie. Being that an average slice of traditional apple pie crams over 400 calories in your mouth, one serving of this serves up just over 200. Between this and all that mall-walking, you are well on your way to the new you!
One more thing, if the glowing review and being a patriotic American aren't motivation enough to go see this alone, take a good, looooong look at Chris Pratt after preparing for the film. Ummm… Herro!
lo-cal apple crisp
6 servings
6 cups apples, peeled, cored and sliced (about 6-8 apples, we used Honey Crisp)
1/8 cup maple syrup
1/8 cup honey
2 tablespoons lemon juice
3/4 teaspoon cinnamon, divided
1/3 cup all-purpose flour
1/2 cup light brown sugar
1/3 cup oats, uncooked
3/4 teaspoon kosher salt
1/4 cup unsalted butter, sliced into 1/2″ sections
3 tablespoons walnuts, chopped
2 tablespoons pecans, chopped
Preheat oven to 375 degrees.
In a large bowl toss together apples, 1/2 teaspoon of the cinnamon, lemon juice, maple syrup and honey.
Spray an 8×8 baking dish with nonstick cooking spray and pour apples into dish. Set aside.
In a separate bowl, place the flour, sugar, oats, 1/4 teaspoon of cinnamon, salt and butter and blend together with a pastry blender (or two knives will work too) until a crumbly mixture forms. Next mix in nuts and pour crumble mixture over apples and bake for 50 minutes or until crisp is bubbling and top is golden brown.