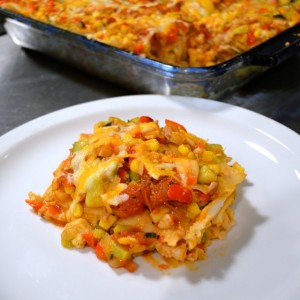 I know you read this title and probably thought to yourself, "Those queens couldn't even make it 2 days before posting another fatty dish!" Well, we are going to let you have your cake and eat it too. Except instead of cake you get this amazing lasagna.
While both "Mexican" and "lasagna" don't scream heart-healthy dish, this casserole will surprise you with how nutritious it really is.
Each serving lands just under 350 calories, and is packed with about 25 grams of protein. Cutting down on the traditional buttloads of cheddar and substituting in a lower-fat feta dramatically slims this meal down.
slimmed-down mexican lasagna 
adapted from Cooking Light
serves 8
1 rotisserie chicken, all meat removed and shredded
1 tablespoon olive oil
1 cup onion, chopped
3/4 cup red bell pepper, chopped
1 cup zucchini, diced
1 cup yellow squash, diced
1 – 14-ounce can yellow corn, drained
1 – 4-ounce can green chiles, chopped
1 – 14-ounce can whole black beans, drained (optional)
1 – 14-ounce can green enchilada sauce
2 teaspoons cumin
2 1/2 teaspoons chili powder
2 teaspoons salt
1/2 teaspoon black pepper
3 cups salsa
18 corn tortillas (6-inch)
1 1/2 cup monterrey jack cheese, shredded
1 cup reduced-fat feta cheese, crumbled
Preheat oven to 350 degrees.
Heat oil in a large skillet over medium-high heat, Saute onion, peppers, squash and zucchini until tender, about 10 minutes. Add all remaining ingredients except for salsa, tortillas, and cheeses, into skillet and continue to cook for an additional 5 minutes, stirring.
Spray a 13×9 baking dish with a nonstick cooking spray and pour about 1/2 cup of salsa into bottom. Layer 6 tortillas over salsa, then top with 2 cups of the chicken and vegetable mixture, spreading into a thin layer over tortillas. Next, layer another cup of salsa and sprinkle a third of each of the cheeses. Repeat layers twice more ending with remaining salsa and cheese on top.
Bake for 20-25 minutes or until beginning to bubble.
Allow to slightly cool before serving.