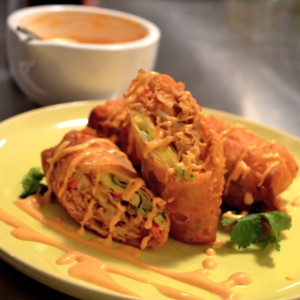 For those of you that read this title and thought: "Finally! This Asian is about to serve us up some legit family recipes from the Far East." FALSE. I am the least Asian you'll probably ever meet. In fact, a white girl from my hometown in West Texas actually taught me how to make these.
So, they're probably about as 'authentically Asian' as the ones fried up at Panda Express or Jack In The Box… but much more delicious.
Now, I'm not gonna lie, these kind of take a long time to make. The steps are very small and easy, there are just a lot of them.
Also, this sauce is not f*@&ing around, y'all. It marries the homey, Paula Deen mayonnaisey flavors of the West with the salty, spicy Iron Chef announcer guy flavors of the East.
john's egg rolls makes 8-10
1 1/2 cups cabbage, shredded
1 cup bean sprouts
1 carrot, shredded
3 eggs, divided
2 cups cooked chicken, shredded
1 large jalapeño, seeded, deveined, sliced
1 bunch of cilantro, roughly chopped
5 green onions, thinly sliced
vegetable/canola oil
1 package egg roll wrappers*
1 tablespoon soy sauce
1 teaspoon Sriracha sauce
*These are usually found in the produce section next to the bean sprouts and/or Asian-y vegetables. I find them at everywhere from Albertsons to Central Market, so you don't have to go to a crazy, back-alley Asian market.

Sriracha mayo dipping sauce
1/4 cup mayonnaise
2 teaspoons Sriracha sauce
1 teaspoons soy sauce
In a large skillet with a little oil, sauté cabbage/slaw, bean sprouts, and chicken. Add soy sauce and Sriracha, and cook until tender, about 5 minutes  Set aside and let cool. Drain off and pat dry mixture with paper towels.

Prep the other ingredients. The jalapeño needs to be seeded and deveined. Cut it in half and slice the jalapeño in small, thin slices.

Using a peeler, peel the carrot. The easiest way to get the thin slices you want for the egg rolls, simply keep using the peeler to create very thin slices.

Beat two of the eggs and fry them unbothered in a pan. Pretend you are cooking a very thin pancake.  When cooked, slice the egg into strips.

Lay the egg roll wrapper on a flat surface with a corner facing you. Place 1/3 cup of the cabbage mixture in the middle. Place a few strips of egg, jalapeño, carrot, green onion and few cilantro leaves.

To fold, fold the corner facing you over the mixture. Then, fold the two side corners in towards the center so it looks like an envelope. Brush the top corner with a bit of egg wash, and roll the entire thing over the last exposed corner.

In a deep saucepan, pour enough oil to have about 1 1/2 – 2 inches of oil and heat to 350 degrees. Once the oil is to temperature, carefully place one to two (depending on the size of your saucepan) into the oil. Cook for about 4 minutes, turning over halfway though.

Finally, carefully remove from oil and lay out on paper towels to allow excess oil to drain and cool. Serve with dipping sauce.