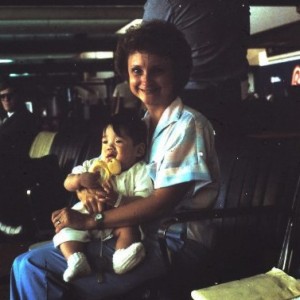 This February 23rd would have been my mom, Vonda Boerger's, 63rd birthday. This is one of our first pictures together at the airport when I was adopted from South Korea. She was an amazing woman: a hospice nurse, devoted pastor's wife, mother of five, and she gave me my start in cooking. 
After she passed away, I was fortunate enough to come across a treasure trove of her hand-written recipes. So, Kyle and I thought it completely necessary to share one with all of you as a tribute.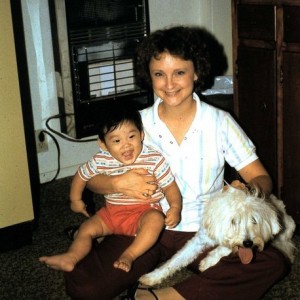 Now, in all honesty, I never remember my mom being an amazing chef. She worked full time and had seven mouths to feed. More often than not, she cooked out of necessity. Coincidentally, Kyle and I both have a shared, terrible memory of a dish our mothers made: goulash. I'm not sure what it is supposed to be, but our mom's versions were more like chili meets elbow macaroni meets me throwing a fit and refusing to eat it.
I literally dreaded this meal. When I saw those beans soaking in the kitchen sink, I would throw very dramatic fits. Some things NEVER change. Luckily, my mom had a serious case of "I'm too busy to care or be your made-to-order chef" syndrome. Quickly, it was made clear that if I didn't like the dinner menu, I should make something for myself. The first thing she taught me was simple scrambled eggs, and to this day, I kind of despise them because I ate them all the time. I was a very picky child. 
Lucky for you, we will NEVER make goulash, but decided something sweet and slightly savory would be fitting as the first of many recipes from this amazing woman.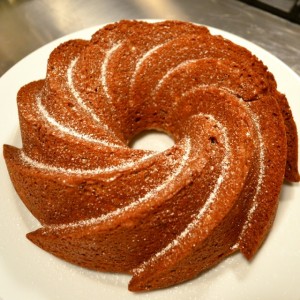 mom's zucchini honey spice cake
1 cup shortening
2 cups honey
1 cup sour cream
3 eggs
3 ½ cups flour
2 teaspoon baking soda
3/4 teaspoon baking powder
3/4 teaspoon salt
2 teaspoon cinnamon
1 teaspoon nutmeg
1 teaspoon ground all spice
1 ½ grated zucchini, set out on paper towels to remove excess moisture
3/4 cups nuts, chopped
powdered sugar (optional)
1/2 cup sugar (optional)*
Preheat oven to 325 degrees.

In the bowl of an electric mixer fitted with the paddle attachment, beat the shortenings smooth. Add the sour cream and honey and mix for a few more minutes. It still may appear slightly lumpy. By 'slightly lumpy' we mean kind of super gross looking, but totally OK. 

Meanwhile, in a separate mixing bowl, combine all the remaining ingredients except the zucchini and nuts. On low speed, add half of the dry ingredient mixture and mix well. Add the remaining half and mix very well. Remove the bowl from the mixer and fold in the zucchini and nuts.

OK, since she did not specify, we weren't exactly sure how to proceed, but here it goes: spray either two loaf pans or a large bundt cake pan with non-stick spray.

Fill pans about 2/3 full of batter and bake at 325. Loaves: 30-40 minutes, rotating halfway through. Bundt: 35-45 minutes.

Remove pans from oven and let cool for several minutes. Then, turn out from pans and, using a mesh strainer, sprinkle powdered sugar over top.

Serve warm or let cool. Great with coffee in the morning or at 3 AM during an Ambien feeding frenzy.

*Those wanting something a little more sweet, beat the 1/2 cup sugar into the shortening at the beginning of the recipe.