ode to ina: chicken with wild mushrooms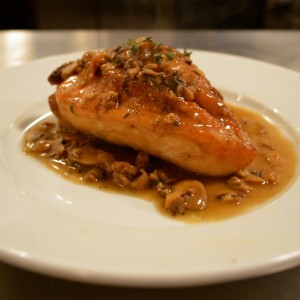 Here is yet another reason we love Ina Garten: she takes simple ingredients such as chicken breast and mushrooms and transforms them into this elegant, delicious meal. Making us (and everyone else for that matter) feel utterly inadequate in almost every way.We believe this to be one the top contributing factors to chef suicide. We're organizing a 5k pub crawl for awareness.
This recipe isn't groundbreaking stuff by way of ingredients or technique. There's no baby placenta, highland cow's milk, or roasting-delicately-over-open-flame required. But when the first forkful of tender chicken and savory mushroom hits your palate, you'll swear there must be Dutch milk maid tears in there somewhere.
chicken with wild mushrooms adapted from

Ina Garten serves 6
2 (3 ½ to 4-pound) chickens, cut in eighths We subbed in 6 bone-in chicken breasts instead.
kosher salt and freshly ground black pepper
all-purpose flour
½ cup good olive oil
8 whole garlic cloves
1 ½ pounds assorted wild mushrooms, such as porcini and cremini, stems removed and diced (Here we used white and baby bella mushrooms, stems on, and it was FINE!)
8 sprigs fresh thyme, tied with kitchen string
1/4 cup dry sherry
1 tablespoon minced garlic (about 3 cloves)
2 cups white wine (such as Pinot Grigio)
2 cups good chicken stock, preferably homemade (Ya, that homemade part didn't happen.)
3 tablespoons unsalted butter, at room temperature
Preheat the oven to 325 degrees.

Pat the chicken dry with paper towels and sprinkle both sides liberally with salt and pepper. Place 1/2 cup flour in a bowl and dredge the chicken in the flour. In a large (12-inch) ovenproof pot such as Le Creuset, heat the oil. Add the chicken in three batches (don't crowd them!) and brown lightly over medium-high heat for 3 to 5 minutes on each side. Remove the chicken to a plate and continue until all the chicken is browned.

Add the whole garlic cloves, mushrooms, and thyme to the pot and cook over medium heat for 5 minutes, stirring occasionally. Add the sherry and cook for 1 minute, scraping up the brown bits. Add the minced garlic and cook for 2 more minutes. Add the wine, chicken stock, 1 tablespoon salt, and 1 teaspoon pepper and bring to a simmer. Add the chicken (large pieces first), cover, and place in the middle of the oven for 30 to 35 minutes, until the chicken is cooked through (about 165 degrees on an instant-read thermometer).

Remove the chicken to a bowl and discard the thyme. With a fork, mash together the butter and ¼ cup flour and add it to the sauce. Simmer, stirring constantly, over medium heat for 5 minutes, until slightly thickened. Season to taste (it should be highly seasoned), put the chicken back in the sauce, and serve hot.