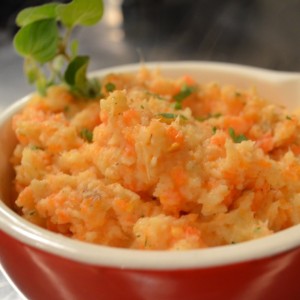 I know what you're thinking: what the f$*k is a parsnip?
Parsnips are cousins of the carrot family. The carrot being the overly spray-tanned waitress in Boca Raton, and her cousin, the parsnip, the pale, elegant, tea-sipper from Cambridge. In short, it's a fancy freaking carrot. And they are delicious. In this recipe we reunited the families and mashed both all up with some butter and milk. Thus giving you a slightly (teensy, minuscule, wee itty-bitty) healthier option to mashed potatoes.
*There is a tiny bit more work to these than a traditional carrot as in they need to be cored. To do this you simply peel, then cut them into quarters and slice off the point, leaving the outer, softer part of the vegetable. You could also opt to use a vegetable peeler for this job as well.
parsnip + carrot mash
serves 4-6
2 pounds parsnips, peeled, cored, chopped to 1″ – 1½" chunks
1/2 pound carrots, peeled, chopped to 1″ – 1½" chunks
5 tablespoons butter
1/4 cup milk
1/4 cup parmigiano reggiano cheese, grated
1 tablespoon fresh oregano, minced
1/2 tablespoon kosher salt
1/2 teaspoon black pepper
Over high heat, bring a large pot of salted water to a rolling boil. Add parsnips and carrots, return to a boil and cook for 15-20 minutes, or until vegetables mash easily with a spoon.
Drain in colander, then return to large pot over low heat, add remaining ingredients and mash until somewhat smooth and well combined. Serve hot.