bacon strawberry mint jam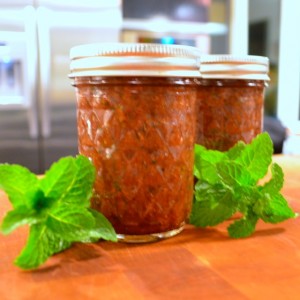 By now you've probably caught on that we are not-so-subtle fans of any and ALL pork products. Especially bacon.I mean, what is it about those greasy little slivers of meat that pull at our heartstrings so? And this recipe makes it spreadable. It's something that literally dreams are made of, or at least a kitchen queer's dreams.
I'm sure you, like us, have seen many adaptations of bacon jam. This is only our interpretation of it, and we feel quite confident that you couldn't possibly mess this recipe up by playing around with your own fruit/spice concoctions. We love the pairing of the sweet strawberries with the salty bacon, and the fresh mint bumps it up a notch… 'cause we're classy like that.
Serve this on waffles or toast, PB & J's, reduce it for a sauce with chicken or fish, or just pair it with a giant spoon… and your mouth-hole.
bacon strawberry mint jam
makes 2 cups
1 pound thick-cut bacon, cooked and drained, crumbled once cooled

3 cups fresh strawberries, hulled and chopped
1 cup white onion, chopped
1/2 cup white sugar
1/2 cup dark brown sugar, packed
2 tablespoons apple cider vinegar
2 tablespoons fresh mint, chopped
Combine all ingredients except mint in a large skillet over medium-high heat and bring to a boil.  Boil, stirring, for 3-5 minutes. Reduce heat to a simmer and cook for 1-1½ hours, stirring occasionally until a jam-like consistency is formed.
Remove from heat and transfer to a food processor with mint leaves and pulse until well combined. Can be stored refrigerated in airtight containers for up to 2 weeks. It will be long gone before you have to worry about it going "bad".