Due to our inherent and self-diagnosed chronic laziness, we are always on the lookout for gadgets or tricks to streamline our recipes. On any given Sunday, you'll find us perusing the shelves of our local kitchenware stores looking for the latest and greatest "shortcut".
One thing that we both despise doing is peeling and mincing garlic, second only to cleaning the press afterward. We have something here that tackles both those issues. We came across the Chef'n Garlic Machine, and our curiosity was piqued. This little tool allows you to place peeled garlic in the reservoir and simply screw down the top until you get your desired amount, then you slide the bottom of the cylinder back in place slicing off your minced garlic.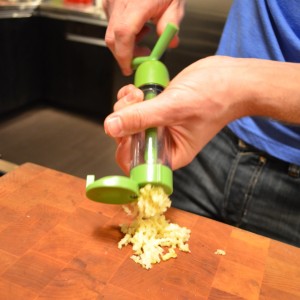 What we found was when mincing three or more garlic cloves at a time this unorthodox garlic press is great. However, this item is advertised as great for filling up with garlic cloves and keeping in your fridge to twist and mince as needed. It misses the mark here. Unfortunately, it presses a lot of liquid out of the cloves before producing any actual minced garlic, thus making the seemingly streamlined process a little more messy than it needs to be.
That being said, we'll still keep this puppy in our arsenal when we are prepping any recipe that calls for a lot of freshly minced garlic.
Now, for the usually tedious peeling process. We are about to blow your minds.
the gay garlic shake
A slightly unstable  enthusiastic friend of mine passed this little trick along. He's Columbian and claims to be from the same city as Shakira. And just like her hips, he does not lie. Believe it or not, this thing actually works.
step one: Crush a head of garlic and remove however many cloves you need to peel.
step two: Place in to a medium-sized bowl. We prefer stainless steel, because they can be wiped out easily afterwards and won't take the garlic smell.
step three: Form a dome by covering the bowl containing garlic by flipping a similarly sized bowl over the top.
step four: Grasp rims tightly, and shake the everloving s**t out of it.
step five: Look inside in amazement.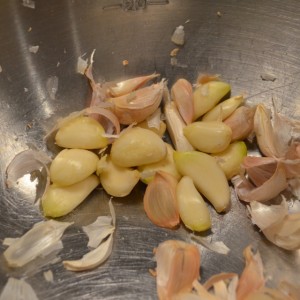 Now that you have this little garlic trick up your sleeve, you're gonna need to do something with this bowl full of peeled garlic. Well, lucky for you, we are giving a Chef'n Garlic Machine away in queer in the kitchen's first ever 'get lucky' giveaway contest.
Simply go to our facebook page and 'like' AND 'share' the photo of our favorite shirtless chef. Contest ends on St. Patrick's Day, Sunday, March 17th. The winner will be announced the Monday, March 18th.