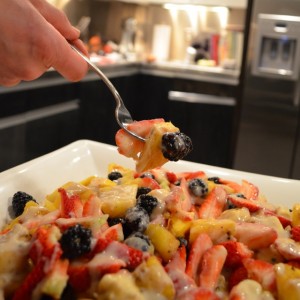 When people speak of fruit salad I'm haunted by memories of those awful, slimy cups of peeled grapes and other indistinguishable fruit that the lunch lady, Linda, would thrust at me in elementary school. While Linda was full of good intentions, I'm almost 98% certain that exact same fruit remains fully intact somewhere inside my body, suspended in a ball of high-fructose corn syrup.
This is NOT that fruit salad. Simply grilling the pineapples, mangoes and bananas achieves a caramel-y crust in places that is ridiculously good. Not to mention the guilt-free decadence that the yogurt honey sauce adds to this dish. Oh, and then there's the fact that this salad you can actually digest.
And here was John's contribution to this recipe: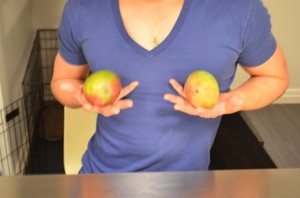 grilled fruit salad
serves 6-8
2 mangos, peeled and sliced
1/2 pineapple, cut into chunks
1 pound strawberries, hulled and sliced
1 cup fresh blackberries
2 bananas, peeled and sliced lengthwise
Heat grill to high heat. Grill mangos and pineapple for about 5 minutes on each side, or until you get some good char marks. Put bananas on grill for last 2 minutes of grilling. Remove from heat and slice into chunks.
Toss with remaining fruit and drizzle desired amount of sauce over top of fruit. Serve with toothpicks.
honey-yogurt sauce
3 tablespoons honey

1/4 teaspoon ground nutmeg
1 tablespoon lemon zest
1 cup vanilla yogurt
In a medium bowl, whisk together all ingredients. Keep refrigerated.