queer in the kitchen Bloody Mary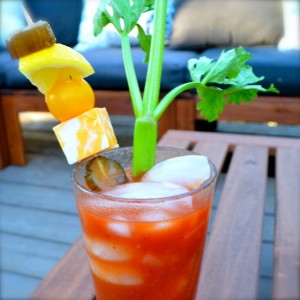 The age old label 'friend of Dorothy' needs a drastic update when it comes to this pair of kitchen queers.Now, nothing against the iconic girl from Kansas, but, technically, we've never met her. However, we are drastically, intimately linked with Mary, and no, we are not talking about the muggle of Marys we hang out with on the regular.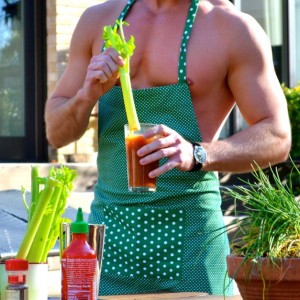 This drink is a staple in our lives. Be it at Sunday brunch, Saturday night, or Wednesday afternoon, there is never a wrong time to have one. And with the tomato juice and skewer of yummy garnishes, this cocktail sits comfortably in the 'main course' category in our hearts.
queer in the kitchen Bloody Mary's

makes one cocktail
2 ounces vodka
6 ounces V8 or Clamato juice
1/2 teaspoon Worcestershire sauce
1 teaspoon olive juice
1/2 teaspoon lime juice
3/4 teaspoon celery salt
1/8 teaspoon horseradish
1 dash Sriracha sauce (or Tabasco®)
fresh ground pepper, to taste
Combine all ingredients in a shaker with ice and shake vigorously. Think Ricky Martin's 'bon bon.' Pour into tall glass and garnish with a celery stalk and a skewer an assortment of lime, cheddar cheese, pickles, pickled okra, etc.