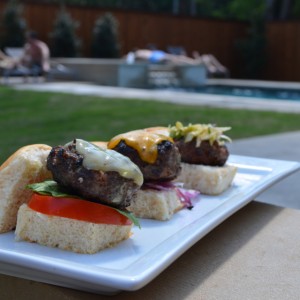 Do you ever find yourself trying to please multiple palates and always come up short? If you have multiple children, you are well aware. Now, imagine those children are older, bitchier and LOVE a good Broadway show. That's basically what it's like cooking for a bunch of gays.
Most of our friends are pretty laid back when it comes to food, but you always have that one sassy, high-maintence queen that won't chomp her veneers down on just anything. So, we're giving him options.
This trio of sliders is great for entertaining a small group who enjoy variety. Also, we tell ourselves they are healthier because they're cute and tiny. The fact that we eat 5 of them in one sitting is irrelevant. 
beef sliders three ways

makes about 24-30 sliders (8-10 of each)

master meat mixture
3 pounds ground beef, 80/20 fat content
4 ounces salami, diced
½ cup panko bread crumbs
3 large eggs, beaten
1/4 cup coarse ground dijon mustard
1 tablespoon Worcestershire sauce
1 tablespoon soy sauce
1 teaspoon black pepper
1 teaspoon kosher salt
bacon blue cheese sliders
½ cup bacon, cooked and diced (about 8 slices)

½ cup blue cheese, crumbled
gruyere cheese, sliced (for serving)
asian sliders
3 tablespoons soy sauce
3 tablespoons brown sugar
1 teaspoon chili garlic sauce
1 teaspoon rice wine vinegar
½ cup green onions, chopped
1 cup shredded cabbage or cole slaw mix (for serving)
jalapeño cheddar sliders
2 medium jalapeños, deveined, most seeds left intact
cheddar cheese, sliced (for serving)
Preheat grill to medium-high heat.

In a large mixing bowl, combine all the ingredients for the master meat mixture. Using a pastry cutter or your hands (ewww), mix until all the ingredients are evenly incorporated. Divide evenly among three bowls.

To each bowl, add the corresponding remaining ingredients and mix well. For the Asian sliders, combine the soy sauce, brown sugar, chili garlic sauce and rice wine vinegar. To form a sauce. Pour half into the meat mixture along with the green onions. Use the remaining sauce to toss with the cabbage or slaw, for serving.

Using about 1/4 cup of meat, form balls and gently press into a patty shape.

Grill 4-5 minutes per side for medium-well to well-done burgers. Watch closely for flare ups to make sure they don't burn. Top the sliders with their corresponding cheeses, and broil in the oven for a minute or so if you want the cheese melted more. Serve with other desired condiments and fixin's. We didn't get crazy with the toppings because we wanted to flavors of the different patties to really come through.

Serve on King's Hawaiian rolls (or small bread of your choosing).