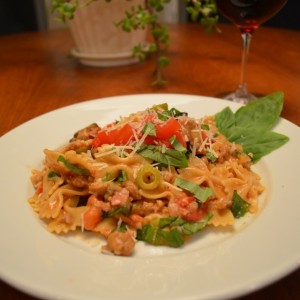 Everyone knows that anything in its best form is supreme. Supreme gasoline, THE Supremes, supreme pizza, Grand Supreme Little Darling and so on. So we, thought how do you make something supreme any better than it already is: wine, cream and carbs!
This dish is one of those filling, one-pot meals that will literally make you want to take your pants off. But more in the sense that you are so full you think your Spanx will have to be surgically removed, not in a sexy way. I mean, no one has ever shoveled a plateful of rich, creamy pasta into their face and then immediately thought, "I could definitely go for a game of slap and tickle."
pasta supreme
serves 6
14-ounce package bow tie (farfalle) pasta, cooked al dente

1 pound Italian turkey sausage, casings removed

3/4 cup onion, chopped
3 cloves garlic, minced
1 ½ ounces salami, chopped
3/4 cup fresh tomatoes, diced
1 14.5-ounce can diced tomatoes, drained
1/2 cup black and green olives, pits removed, chopped
1 teaspoon salt
1/2 teaspoon pepper
3/4 cup white wine
1 cup whole milk
2 tablespoons flour
1 ½ cup parmesan cheese, shredded, divided
8 fresh basil leaves, torn or chopped
In a large skillet over medium-high heat, brown turkey sausage until cooked through. Spoon out meat into bowl and set aside, reserving meat juices in pan.
Add onions and garlic. Sauté until fragrant, about 5 minutes. Add salt and pepper, canned tomatoes, fresh tomatoes and salami and stir until starting to foam, about 5 more minutes. Add olives to pan then pour wine, milk and flour to pan and stir well to combine and cook until sauce begins to thicken slightly, about 3 minutes. Add 1 cup of parmesan cheese and cook just until melted, remove from heat and stir turkey into pan.
Toss with pasta and garnish with fresh chopped tomatoes (optional) and remaining parmesan cheese.