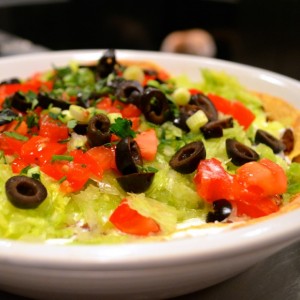 Those of us who are expected to be poolside at any given point during the summer must moderate our intake of anything that is or relates to tacos or pies. But when presented with the idea of those two things wrapped into one, we had to change our pants all those flimsy restraints flew out the window. Along with those sweet dreams of any six-pack this summer that doesn't have blue mountains on it.
Calling this a Mexican dish is probably about as authentic as when people ooo and awe over newborn babies, when really they more resemble an alien that just wrestled itself out of a vagina headlock. Still this 'Mexico meets Midwest' recipe is a meal in itself that can be thrown together quickly on a weeknight with time to spare for you to lock yourself in the bathroom and drown your worries in a tub full of chianti.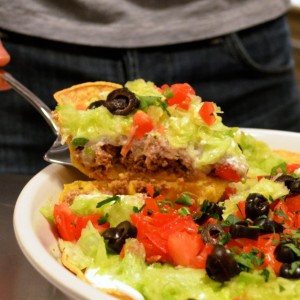 taco gay grandé pie
makes 2 pies
20 corn tortillas

2 pounds lean ground beef
1 package taco seasoning
1½ cups salsa
1 cup light sour cream
2 cups pepper jack cheese, shredded
2 tomatoes, diced
1 head iceberg lettuce, shredded
1 bunch green onions, chopped, white and pale green parts only
1/4 cup black olives, sliced
Preheat oven to 350 degrees.
In each of the two deep-dish pie dishes sprayed with cooking spray, layer 5 tortillas in each, slightly overlapping and coming up sides of dishes. Evenly divide the ground beef between both dishes. Top beef with half the green onions on each, reserving other half for topping.
Sprinkle 1/2 cup cheese over each dish, and layer with enough tortillas to cover. Pour 3/4 cup of salsa over tortillas, then add remaining cheese on top of that.
Bake for 20-30 minutes or until cheese is melted and beginning to brown. Remove from heat and spread sour cream evenly over both dishes, then top with lettuce, tomatoes, black olives and remaining green onions.
Slice into wedges and serve.