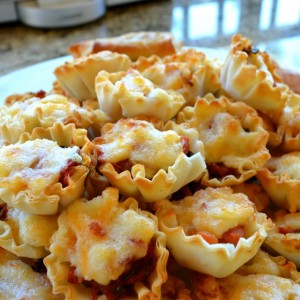 We've all heard the old saying, 'size doesn't matter.' In this case, and quite possibly ONLY this time, the saying holds true. These little nuggets are the perfect little mix of flavors and textures: savory tomato, flaky dough, and creamy cheese… Oh God, the cheese! We at queer in the kitchen believe almost anything can be made better by the adding any of the following: bacon, cheese, or dairy spreads. We didn't hold back on this recipe and crammed all of the above into these bite-sized delights.
When you serve these perfect, simple hors d'oeuvres at your next party, your guests will be stuffing their cocktail napkins and faces with these hand over fist. So, rest assured your friends are running to the powder room in groups of two or three to devour these snacks… probably… hopefully.
itty bitty tomato tarts,

adapted from Southern Living makes 12-15 tarts
1 package small frozen phyllo dough cups
1 14-ounce can fire roasted tomatoes
1/4 cup fresh basil, loosely packed, chopped
2/3 cup light mayonnaise
1/2 cup grated parmesan cheese
1/4 cup sharp cheddar cheese, shredded
1/4 cup mozzarella cheese, shredded
3 slices bacon, cooked and crumbled
1/2 teaspoon salt
1/4 teaspoon black pepper
Preheat oven to 425 degrees.

Arrange cups on a large ungreased cookie sheet. Drain tomatoes and blot most moisture out with paper towels, then chop them to 1/4 inch pieces. Toss with basil and set aside.

In a separate bowl, combine all remaining ingredients and mix well. Fill phyllo cups with about 1 teaspoon of tomato mixture, then top with about 1/2 teaspoon cheese mixture each. Repeat until finished.

Bake in preheated oven for 10 minutes, or until topping is starting to slightly brown.