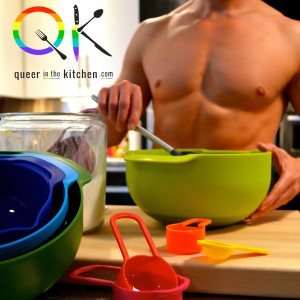 Attention gays and their straight, single BFF girlfriends who live vicariously through them, it's PRIDE season! June was actually national PRIDE month and from Houston to New York City, rainbow flags have been flying all over the country. You probably already knew that, but, you didn't know that in honor of this summer tradition of parades full of drag queens throwing shade, bears in leather vests, and twinks twirling like ballerinas on a jewelry box, queer in the kitchen is doing another colorful giveaway!
We L-O-V-E the space-saving and über-gay colored Joseph Joseph Nest 9 Plus Compact food preparation set*. So, like the suspenders worn with shorts, Jell-O shots of all kinds, and the glitter cannons that go off at 1 AM, this set is rainbow to the max. We are obsessed with EVERYTHING on this website. It's also fair enough to assume it's even a same-sex couple: Joseph Joseph? Yeah, they ain't roommates.
The set includes:
one large mixing bowl

one large colander
one stainless steel mesh sieve
one small mixing bowl with measurements
five measuring cups
To enter, go to our facebook page and just "share" and "like" the photo at the top of this page! Winners will be announced Tuesday, July 9th.
PS – We totally bought two different sets: one to use/photograph and one to giveaway. We aren't giving away used bowls. That's just tacky… and eww.
*This giveaway is in no way sponsored by Joseph Joseph. We just think these are SUPER cute!