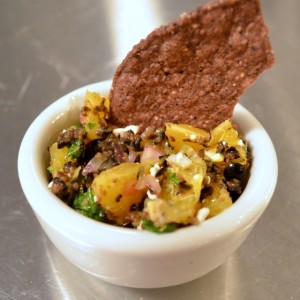 In a recent effort to be more smug health-concious/sustainable farming-supportive/foodie-hipsterish, I joined a farm produce co-op. Basically, a sizable, recurring debit hits my credit card every other week and I'm left with a bag of fruits and veggies that I more than likely would've never purchased, or been able to identify in the first place. I'm not sure ANYONE actually purchases kale, I'm positive it's grown only for these damned co-op bags. And what the f#@* is a rutabaga?!
While shopping at your neighborhood organic grocer delivers a feeling of superiority, it ain't nothing compared to the self-righteousness accomplished by driving to a terrifying part of town, waiting in line behind a bunch of women tightly gripping their handbags, nervously shifting foot to foot, then grabbing your 'share' and sprinting back to your SUV with your farm-fresh goodies.
This recipe was the result of what was apparently a large crop of Texas oranges that was unloaded onto all of us holier-than-thou co-op shoppers. It's a great summer side that holds up well at any BBQ, picnic or poolside shindig. It also isn't bad chased with a fresh-squeezed Screwdriver made from snobby oranges… Trust us.
orange and olive tapenade
makes 1 ½ – 2 cups
2 large oranges

1 4-ounce can chopped black olives
1/4 cup red onion, finely chopped
2 tablespoons fresh basil, chopped
1/4 teaspoon red pepper flakes
1/2 teaspoon salt
1/3 cup feta cheese, crumbled
Using a sharp knife, slice off the both ends of the oranges, then carefully peel slicing down under the pith down to the flesh all the way around the orange. Separate into segments and slice into thin triangles. Toss oranges with remaining ingredients (in a non-reactive bowl), cover and refrigerate for an hour.
Serve with crostinis or pita chips.