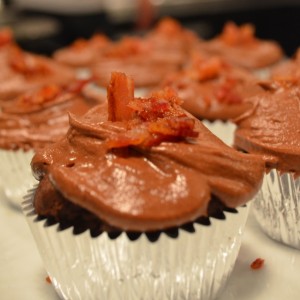 We regret that we haven't been posting as regularly lately. We've been really busy and that makes us lazy… VERY lazy. This recipe is clear proof of that.  Here we are at the downward slope of summer where the biggest, most-shirtless end-of-summer pool parties will be thrown, and we have lazily been gorging on all kinds of fat-girl foods. Like the season, our moobs (man boobs) are also on a downward slope.
Now that we have doubled the size of our butts, we decided to not half-ass this recipe. We committed to really indulge in one of our favorite pastimes: bacon. The crispy, crunchy, heart-stoppingly delicious bacon actually goes very well with these chocolatey cakes and kick-ass frosting with a hint of maple. These basically qualify as a breakfast food.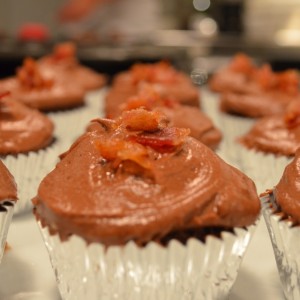 In the fall, our favorite cooking season, we'll try to be more diligent in posting. You can keep up with our dining out, cooking, and other random stuff we do through our* recently launched Instagram.
*Kyle would like it noted for the record that John does most of the Instagram updates. So, any wigs, choreography or questionable photos posted are not his and he's sorry.
bacon maple cupcakes

makes 18-20

cupcakes
1 ¾ cups all-purpose flour
¾ cup cocoa powder
2 ¼ teaspoons baking powder
¼ teaspoon salt
2 sticks (1 cup) unsalted butter, softened
1 ¼ cups sugar
3 large eggs, beaten
1 teaspoon vanilla extract
¾ cup milk
12 slices bacon, cooked and chopped, divided
frosting
1 cup dark chocolate chips
16 ounces confectioners' sugar
2 sticks (1 cup) unsalted butter, softened
¼ cup milk
2 teaspoons maple syrup
Preheat oven to 350 degrees.

Place liners in muffin pans and spray with non-stick spray. In a medium bowl, whisk together the flour, cocoa powder, baking powder and salt. Set aside. In a separate mixing bowl (or bowl of a stand mixer) beat the 2 sticks of butter and sugar together. Add the eggs and vanilla extract and beat until smooth. Add in the milk and half of the dry ingredient mixture. Combine well and add the rest of the dry mixture.

Fold in about 2/3 cups of the chopped bacon (reserving the rest for garnish). Using an ice cream scoop, evenly divide the batter between the cups, about 1/3 cup each. Bake at 350 to about 20 minutes, or until a toothpick comes out of the center clean.

Meanwhile, in the microwave on low heat, melt the chocolate, stirring frequently, set aside to cool slightly. In the bowl of a stand mixer, beat the powdered sugar, butter, and milk until very smooth. Finally, beat in the melted chocolate and maple syrup.

Once the cakes have cooled, use an offset spatula or piping bag to frost the cupcakes and garnish with remaining chopped bacon.