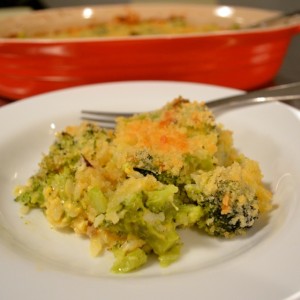 No, Thanksgiving spread would be complete without some sort of broccoli/rice/cheese casserole. It would be like Sunday Brunch any morning without mimosas. Thanks, champagne.
Even Kyle's partner, Dean, has a "recipe." Note: this is the guy that smothers almost everything in ketchup and whose favorite meal combo is mac and cheese with apple sauce. He can tell when toast is burnt and has a baked potato story that is the highlight of any cocktail party.
Anyway, we decided we needed in on the action. So, we concocted our twist on the classic dish. Rest assured, no apple sauce or ketchup was used in the making of this recipe.
broccoli + leek au gratin
makes 6 servings
6 cups broccoli, chopped into 1″ chunks
1 cup wild rice, cooked
6 tablespoons butter, divided
1 cup leeks, chopped, white and pale green parts only
2 cloves garlic, minced
1/4 cup flour
1 cup whole milk
1/2 cup half and half
1¼ cups (10 ounces) gruyere cheese, shredded
1 cup (8 ounces) sharp cheddar cheese, shredded
1 tablespoon kosher salt
1/2 teaspoon black pepper
1/2 cup panko bread crumbs
Preheat oven to 375 degrees.
Blanch broccoli by submerging it in boiling water for 3 minutes, then transferring it to a large bowl filled with ice water to stop the cooking process. After 10 minutes or so drain and set aside.
In a large skillet over medium-high heat, melt 4 tablespoons of the butter. Add in leeks and garlic and sauté until fragrant and tender, about 5 minutes. Add flour and stir well to combine and coat the leeks. Cook, stirring constantly, for an additional minute or so, then slowly add in both milk and half and half. Continue stirring over heat until sauce begins to bubble and thicken, about another 5 minutes.
Remover sauce from heat and in a large bowl, pour sauce over cheeses and stir in salt and pepper. Add in broccoli and cooked rice and toss well to combine. Spread mixture into a greased 13×9 baking dish or two cast iron skillets. Sprinkle bread crumbs over top and melt remaining 2 tablespoons of butter and drizzle over top.
Bake for 40 minutes, then turn on broiler on high heat and broil for a minute or two, watching closely so it won't burn.