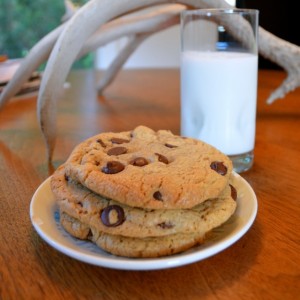 This recipe comes from our friend TJ, a fellow queer, a piping hot mess, and a self-proclaimed 'Martha' in the kitchen.
TJ loves to entertain and lives up to the stereotype of an über-homosexual host. Whether it is a Lady Gaga themed birthday party (which is actually just any typical gay birthday party), a trip to the pool, casual cocktails, or a formal dinner party, TJ effortlessly marries the simple and fabulous. Between that combo and our mutual admiration for wine it's shocking he hasn't been featured here before.
These giant, chewy chocolate chip cookies are super simple and extra delicious. A testament to the quality of these sugar and fat patties is that even our body-obsessed friends literally request these for get-togethers even during the peak of summer. So, Speedos be damned. Let them eat big ass cookies!
tj's big ass, chewy chocolate chip cookies

makes 10 big ass cookies
2 cups all-purpose flour
1/2 teaspoon baking soda
1/2 teaspoon salt
3/4 cup unsalted butter, melted
1 cup light brown sugar, lightly packed
1/2 cup white sugar
1 tablespoon vanilla extract
1 whole egg
1 egg yolk
2 cups semi-sweet chocolate chips
Preheat oven to 325 degrees. Line 2 cookie sheets with parchment paper. Set aside.

In a medium bowl, sift together flour, baking soda, and salt. Set aside.

In a large bowl or bowl of a stand mixer, cream together the melted butter and sugars until well blended. Beat in the vanilla, egg, and egg yolk until smooth and creamy. Slowly mix in the sifted, dry ingredients until just blended. Using a wooden spoon, mix in the chocolate chips by hand.

Drop cookie dough 1/4 cup at a time onto the prepared cookie sheets. Cookies should be about 3″ apart.

Bake for 14-17 minutes in the preheated oven, rotating the pans half way through, until the edges are lightly toasted. Cool on baking sheets for a few minutes before transferring to wire racks to cool completely.