We'll be the first to admit we were a little late to the kale party. It was just hard to get us too worked up over an ingredient that isn't traditionally breaded, fried and dipped in gravy and/or Ranch dressing. But as it turns out, those early adapting foodie hipsters were on to something with this rabbit food.
We dipped our toes into the kale pool by starting with some kale chips (which are fine, but calling them "chips" sets you up for disappointment right out of the gate). Then, we ventured onto a gruyere-creamed version (while delicious, was WAY too rich, even for us). Finally, all of our Goldilocksesque criteria were met with this salad. Kale as a salad? Who would've thought?!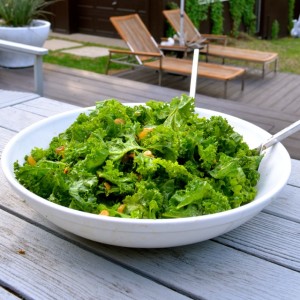 This is simple to prepare, and while the sesame and mirin lends a hint of an Asian flavor, it's not so much that you couldn't pair this with just about any entree you're serving.
sesame ginger kale
serves 6 to 8
2 large bunches of kale, tough stems removed and roughly chopped, about 10 cups
1 tablespoon sesame oil (preferably the toasted variety)
2 tablespoons soy sauce
2 teaspoons agave nectar
1 teaspoon mirin
1/2 teaspoon fresh ginger, grated
1/4 teaspoon salt (or more to taste)
1/2 teaspoon ground black pepper
1 bunch green onions, chopped, green and pale green parts only
1/4 to 1/2 cup cashews, roughly chopped
1/2 cup golden raisins
Place chopped kale in a large, non-reactive bowl. In a separate bowl or liquid measuring cup, combine all remaining ingredients except the onions, cashews and raisins. Mix well and drizzle over kale, tossing well to combine. (A good trick for this is to place a similar sized bowl over the top and shake it to coat.)
Add in remaining ingredients and toss well. Place kale, uncovered, into the refrigerator for at least 30 minutes (and up to 3 hours) to let it soften.