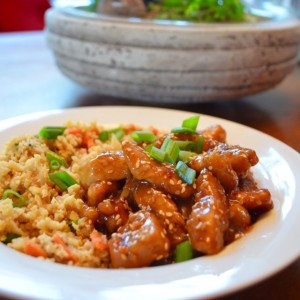 Like the Titanic, communism, or John's latest hormone therapy, this recipe started with the best of intentions and went horribly wrong. While we watched Lady Gaga star in Tom Ford's spring collection, we were thinking of ways to avoid gaining our fall fifteen twenty.
We set out to attempt a healthy or at least slimmed-down version of sesame chicken, and by the end we had regular, delicious, deep-fried, not healthy, sesame chicken. Whatever. That shit was tasty.
 While this may not be the healthiest of options, it is absolutely delicious. And when paired with our cauliflower fried rice (recipe coming soon), you can at least knock out a few of the probably hundreds of carbs here. Actually, it's best not to think about it. Just eat it.
sesame chicken
serves 4-6
2 pounds chicken cutlets
1/2 cup soy sauce, divided
1/4 cup plus 1 tablespoon sesame oil, divided
3 cloves of garlic, minced, divided
2 teaspoon fresh ginger, peeled and grated, divided
2 cups chicken broth
2/3 cups brown sugar, lightly packed
2 tablespoons sherry vinegar
2 teaspoons sweet garlic chili sauce, or Sriracha for more heat
1/4 cup cornstarch
1 1/2 cups flour
1 teaspoon black pepper
1 1/2 tablespoons kosher salt
peanut or canola oil for frying
tablespoon of toasted sesame seeds
green onions, green parts only, sliced, for garnish
Slice chicken cutlets once lengthwise and then crosswise into 1/2 inch pieces. Place in a large resealable plastic bag. Assemble the marinade in a small bowl by whisking together 1/4 cup of the soy sauce, 1 tablespoon of sesame oil, 1 clove of minced garlic and 1 teaspoon of the grated ginger. Pour marinade over chicken in the bag and press most the air out. Refrigerate for at least one hour hour and up to 6.
Assemble sauce by whisking together chicken broth, sugar, 1/4 cup of soy sauce, 4 tablespoons of the sesame oil, sherry vinegar, chili sauce, 2 cloves of minced garlic and 1 teaspoon of the ginger in a medium saucepan over high heat. While sauce is heating, stir together the cornstarch with 1/2 cup of water to dissolve. When sauce begins to boil, stir in cornstarch and reduce heat to medium-low and simmer, stirring occasionally, until it begins to thicken, about 10-15 minutes. Keep warm over low heat.
After chicken has marinated, remove from bag and place in a colander in the sink in order to drain excess marinade off. Toss flour, salt and pepper together in a large bowl with a lid (or a paper grocery bag works great too). Add in chicken and shake the shit out of it to get an even coating.
In a large deep pan over high heat, pour 1/2″-1″ or so of cooking oil. When oil begins to bubble and pop, CAREFULLY place chicken in oil, working in batches, being careful not to overcrowd the pan. Cook until cooked through, about 5-7 minutes and remove with a slotted spoon to a wire rack over a baking sheet to drain (or just paper towels on a plate will work too).
Assemble dish by tossing together chicken, sauce and sesame seeds in a large bowl. Serve warm with rice and top with sliced green onions. Also you could offset your carb intake by serving with our cauliflower fried rice.