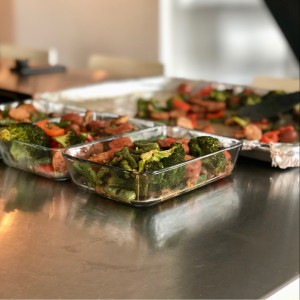 While we all love to pretend to be as classy as Ina Garten, flitting around our kitchen making complex meals with pretentious ingredients, it's also sometimes nice to toss out any f**ks you previously gave, pull out the bottom-shelf olive oil, and embrace our inner Sandra Lee.
If a recipe with more than three steps intimidates you, then this is gonna be your new weeknight jam. This one pan dish has been a part of our meal-prep rotation for the last couple of years, and we can attest it can be completed after multiple glasses bottles of wine.
Also, if you hate being told what to do, disregard our spice measurements and make your own. You can also mix it up by changing out different veggies or types of sausage. Really just ignore this amoeba of a recipe and throw some shit on a pan. Get crazy!
one pan chicken sausage + veggies

6-8 servings
1 ½-2 pounds chicken sausage, sliced
3 cups green beans, chopped into 1″ sections
2 red bell peppers, chopped into 1″ sections
2 cups mushrooms, sliced
4 cups broccoli florets, chopped
3 tablespoons extra virgin olive oil
1 tablespoon kosher salt
1 teaspoons dried oregano
1 teaspoon dried basil
1 teaspoon smoked paprika
½ teaspoon ancho chili powder
½ teaspoon onion powder
½ teaspoon ground black pepper
½ to 1 teaspoon red pepper flakes
2 avocados, chopped (optional)
Preheat oven to 425 degrees.

In a very large mixing bowl, add all the vegetables and chicken sausage. Drizzle with olive oil and spices and toss well to coat.

Spread the vegetables and sausage over a very large rimmed baking sheet. (We used a full sheet pan, but you could also do two half sheets) Toss around with a spatula.

Bake for 20-25 minutes. Stirring with a spatula halfway through. Plate and top with chopped avocado (if using.)