"The Sessions" is the true story of a paralyzed man who wants to lose his virginity.
John Hawkes plays Mark O'Brien, a poet and a journalist paralyzed from the neck down due to polio. O'Brien decides he wants to KNOW a woman in the Biblical sense so he seeks out a sex surrogate, played by Helen Hunt. She is naked for most of the movie, by the way and looks AMAZING for a woman who is turning 50 next year. Anyhow, O'Brien is a devout Catholic and wants God's blessing, so he also talks to William H. Macy, who plays the World's Coolest Priest.
Director Ben Lewin treats this story with such a gentle, loving hand, the movie virtually GLOWS with sentiment and that's why "The Sessions" is getting an A+ from me. In fact, this might be the first time a movie about the struggle to get laid goes to the Oscars.
When I hear the word 'sentiment', I hear 'comfort.' When I hear 'comfort' I think 'comfort food.' And I think we ALL can agree that just translates to butter.
This dish is a one of my favorites. It is a staple of my old roommate's. Regardless of the dinner party or what else was being served, David's was the one dish that was almost literally (and sometimes actually) licked clean. But can you blame anyone? Butter, cream cheese, sour cream, and cheese wrapped around carbs and topped with fried carbs. It's basically all of Paula Deen's hopes and dreams in a 13×9 casserole.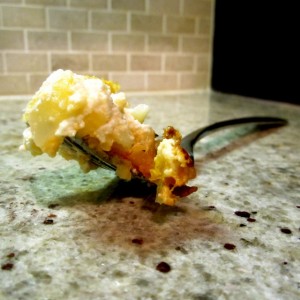 david's hash brown casserole
serves 8-10
1 medium yellow onion, diced
4 tablespoons butter, melted
1 30-ounce bag frozen hash browns
1 can of cream of chicken soup
16 ounces sour cream
2 cups sharp cheddar cheese, grated
8 ounces cream cheese, softened
1 teaspoon garlic powder
1 teaspoon black pepper
2 cups crushed potato chips
Preheat oven to 350 degrees.
In a skillet with a little olive oil, saute the diced onion over medium heat.
Meanwhile, in a bowl, break up the frozen hash browns and combine with melted butter.
In a separate, very large bowl, combine the sour cream, soup, sour cream, grated cheese, cream cheese, garlic powder, and pepper. Add the butter and hash brown mixture to this bowl.
Spread mixture into a 9 x 13 baking dish. Cover with tin foil and bake for 1 hour.
Remove casserole and spread crushed potato chips over the casserole and return to the oven, uncovered, for an additional 15-20 minutes, or until golden on top.