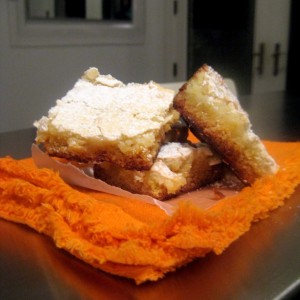 My friend, London, has a nasty streak of upstaging my desserts. This past Thanksgiving was no exception. To add insult to injury, his recipes are always so damn easy… and, it pains me to admit, more delicious! I mean 'gooey' and 'butter' built right into the title?
The real secret lies in the White Trash factor. And I mean that in the BEST way possible, y'all. It's no secret that I prefer the Cream of Mushroom soup (aka White Trash) version of green bean casserole to Kyle's haute take on it. And, while purchasing a boxed cake mix literally hurt my teeth, this recipe is legit. Also, being that all or most of the ingredients can be purchased with food stamps, this is clearly white trash government approved!
london's gooey butter cake

cake:
1 18 1/4-ounce package yellow cake mix
1 egg
8 tablespoons butter, melted
filling:
1 8-ounce package cream cheese, softened
4 tablespoons butter, softened
2 eggs
1 teaspoon vanilla
16 ounces powdered sugar
Preheat oven to 350 degrees.

In a large bowl using an electric mixer, combine the cake mix ingredients. Pat the mixture into a lightly greased 13×9 pan.

In a separate bowl, beat the cream cheese and butter together until smooth. Continue to beat, adding the eggs and vanilla until well combined. Then slowly add all but 2 tablespoons of the powdered sugar and mix very well.

Pour filling mixture over cake mixture in pan.

Bake for 40-50 minutes, or until the top is light golden brow, but the center is still slightly gooey. Hence, the name.

Once the cake has cooled, sprinkle the leftover 2 tablespoons of powdered sugar over the cake.