kyle's mac & cheese spring rolls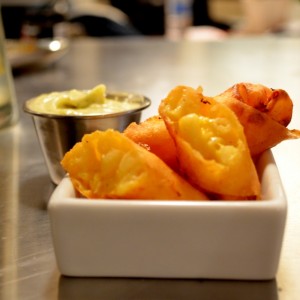 One of the first meals that John made me were his infamous egg rolls. I'm not going to lie, I was pretty excited to eat an authentic Asian dish crafted in the kitchen of a bona fide Asian.
I was half-mistaken.
Although the egg rolls were uh-mazingly delicious, I soon learned that John is the farthest thing from an authentic Eastern cook, and has exactly ONE Asian dish he can make.
This got me thinking though, if a faux Asian can make cabbage and carrots taste so delicious in a roll, what would something I actually like to eat taste like all packaged up and fried?
In one word: amazeballs.
In this recipe, feel free to play around with different spices, cheese and dipping sauces to make it your own. I mean, is it possible to go wrong taking carbs and cheese, wrapping them in more carbs, THEN deep frying them?!?
The answer, my friend, is a resounding "No".
kyle's mac & cheese spring rolls
makes 24 spring rolls
1 1/3 cups sharp cheddar cheese, shredded
2 cups gouda cheese, shredded
5 tablespoons unsalted butter
1/2 cup flour
2 cups milk
1 teaspoon truffle salt (or 1 teaspoon truffle oil, and 1 teaspoon of salt)
1/2 teaspoon black pepper
2 cups small uncooked elbow macaroni
3 slices bacon, cooked and crumbled
1 package imperial roll wrappers
1 egg
1 tablespoon water
vegetable or peanut oil for frying
dipping sauce (recipe below)
Cook macaroni according to package instructions, set aside.
Melt butter in a large skillet over medium heat, whisk in flour and cook for 2 minutes, stirring.
Whisk in milk and cook, stirring constantly, for 8-10 minutes, or until the sauce has thickened. Remove from heat and in a large bowl, toss with macaroni, cheeses, bacon, truffle salt and pepper. Refrigerate until well cooled, about an hour.
Once mac and cheese is cool, heat 1-2 inches of oil in a deep, heavy saucepan over medium-high heat until oil reaches 350 degrees. When frying you'll need to adjust temperature up and down to maintain a steady temperature.
In a small bowl, whisk together egg and water to form an egg wash.
Assemble rolls by laying out a wrapper with a corner pointed back towards you. Spoon about 1-2 tablespoons of mac and cheese onto wrapper. Fold bottom corner up (away from you) to cover mixture then fold both corners in. Lightly brush corner farthest away from you with egg wash and finish rolling spring roll.
Fry in oil in batches of 3-4 rolls for about 5-7 minutes or until golden brown. Rolls will begin to float when finished. Transfer to wire rack above paper towels to cool.
Serve with dipping sauce.
wasabi ranch sauce
1/4 cup mayonnaise
1/4 cup sour cream
1 tablespoon ranch dressing dip mix
1 ½ teaspoons wasabi powder
Mix all ingredients in a bowl until well combined. Enjoy the s#&* out of it.