Yes… No need to adjust your classy monocle, you read that correctly: "Bacon. Pie." How this hasn't happened sooner on this blog is a real travesty. Our bad. This one's on us, guys. 
If you even mildly follow our posts, you know that one: John is too gay to function and two: we love bacon. We love bacon so much, John even got a tattoo to show his true, undying devotion to all things pork.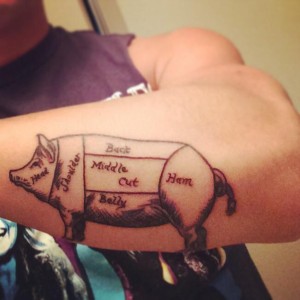 Whether it's appetizers, desserts, main courses, sides, fronts, backs, we take our bacon wherever we can get it. This dish could probably play a role as any of those courses.
Editor's note: the healthy version of this is sitting alone in the dark and eating plain celery hating your life that you're not eating this pie. Gurl, bye.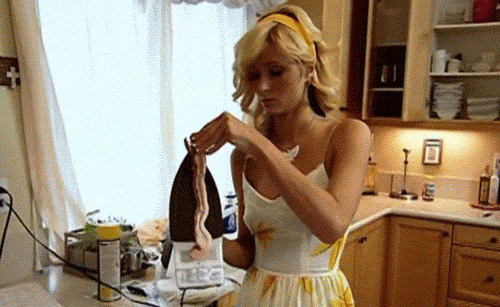 bacon + tomato pie
makes one pie, serves 4-6
1 marcie's pie crust (or frozen if you're lazy. As you can see, we are.)
1/2 pound bacon
2-3 tomatoes, sliced 1/4″ thick
1/2 red onion, sliced
1/2 teaspoon salt
1 tablespoon sugar
1 cup mayonnaise
1 cup sour cream
1 tablespoon dijon mustard
1/2 cup gruyere cheese, shredded
1/2 cup sharp cheddar, shredded
1/4 teaspoon black pepper
1/4 cup green onions, chopped
2 tablespoons fresh basil, finely diced
Preheat oven to 375 degrees. Lay bacon on a foil-lined baking sheet and bake until crisp, about  20-25 minutes. Remove to plate lined with paper towels to drain. Roughly chop when cooled. Lower oven temperature to 350 degrees.
While bacon is cooking, caramelize the onions by heating 1-2 tablespoons of olive oil over medium-high heat until shimmering. Add onions and stir well to coat. Add 1/2 teaspoon of salt and 1 tablespoon of sugar. Sauté, stirring frequently until onions are darkened in color, about 20-30 minutes.
If using a frozen pie crust, remove to counter to thaw for at least 10 minutes. Pierce the bottom of the crust several times with the tines of a fork. This will keep the bottom from puffing up too much. If only this worked on John.
In a mixing bowl, mix together mayo, sour cream, pepper and both cheeses. Start assembling pie by layering tomatoes first, then onions, followed by bacon and finally the cream/cheese mixture. Top with green onions and bake uncovered for 30 minutes in preheated oven.
Let cool slightly and top with fresh basil before serving.