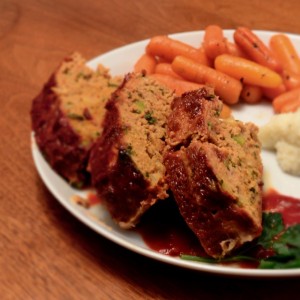 We love our classic turkey meatloaf recipe. It was actually one of our original posts three years ago, and since then, we have made it about 23,135 times. So, we finally decided to spice up an old favorite, literally.
If writing this blog for three years has taught us anything, it is: 1. Bacon makes every recipe better.  2. After handling chipotle chiles, do NOT touch your eyes or ANY of your other various thin-skinned areas. Learning that second one definitely wasn't as fun as learning the first…
We also learned that adding the ground turkey to the bacon in the food processor makes the finished loaf have a wonderful texture and is well worth the extra appliance cleaning. Even if the fact that the stuff coming out of the food processor looks like a terrible accident happened at a Play-Doh Factory.
Feel free to add more or less of the chipotle sauce depending on your desired level of heat, but seriously, don't use your chipotle handling digits for anything for at least 36 hours. This makes a tasty and easy weeknight meal, but it makes so much and reheats so nicely as leftovers, we usually use this for a healthy meal-prep option for the week.
Even though this would be SO much easier…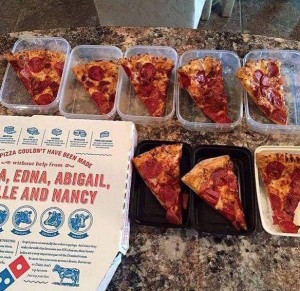 chipotle turkey meatloaf, 

adapted from chowhound.com serves 8
2 pounds lean ground turkey (we like the 93/7 kind)
3 slices bacon
3 large eggs, beaten
1 cup ketchup, divided
1 can chiles in adobo
2 celery stalks, finely chopped
1/2 medium yellow onion, finely chopped
1/4 cup cilantro, chopped
1/4 cup Italian parsley, chopped
2 1/4 teaspoons smoked paprika, divided
2 teaspoons ancho chile powder
1 tablespoon kosher salt
1/2 tablespoon ground black pepper
1 cup bread crumbs
1/2 cup milk
Preheat oven to 400 degrees. Line a baking sheet with foil and spray with nonstick spray.

Place the bacon in a large food processor and pulse until finely chopped. Add in the turkey meat and pulse then run until well combined and smooth. If you have a small food processor, you can do this in two batches.

Meanwhile, add eggs, 1/4 cup of the ketchup, 2 tablespoons of the chiles (fished out of the can with a fork, chopped finely), celery, onion, cilantro, parsley, salt, pepper, chile powder, and only 2 teaspoons of the smoked paprika. Mix well.

Mix the bread crumbs with the milk in a small bowl and stir to make a paste, then add to the egg mixture. Lastly, add in the meat and mix well with your hands to combine, turning and kneading.

Pour onto prepared baking sheet and form into a 12 inch by 6 inch loaf. Place in preheated oven and bake for 30 minutes. While meatloaf is baking, place remaining 3/4 cup ketchup, 1 tablespoon chopped chipotle chile and 1/2 teaspoon smoked paprika in a bowl and whisk to combine.

Remove loaf from oven and dollop 3 tablespoons of ketchup mixture over top and spread evenly to coat. Return loaf to oven and bake for 15 more minutes or until center registers 165 degrees.

Let cool and slice into 1 inch slices. Serve with remaining sauce.