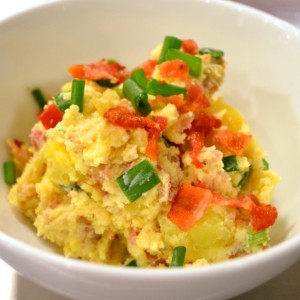 There are few simple pleasures in life that compare to barbecue food. It is always delicious, almost always carb-centric and usually served (and eaten) in giant, heaping spoonfuls. Case in point, potato salad MUST be served. It's downright unAmerican to not serve it. In fact, if you ever go to a barbecue that doesn't, you should probably report that flag-burning host to that ginger girl in Zero Dark Thirty.

This particular recipe is crazy-easy and is perfect because it incorporates all the delicious ingredients of a loaded baked potato but saves your guests the time of individually dressing each one. And is a whole lot faster to eat. In fact, the time I save not bothering with stuffing individual baked potatoes I use for more necessary endeavors… like shopping for Man-Spanx on Amazon.
These potatoes are particularly awesome with our barbecued ribs, zesty beef brisket, or turkey burgers.
loaded baked potato salad
3 pounds red potatoes, cut into 1″ chunks
10 – 12 slices of thick-cut bacon
1/2 cup green onions, chopped
16 ounces sour cream
1 ranch seasoning mix packet
1 teaspoon kosher salt
1/2 teaspoon black pepper
In a very large pot over high heat, bring about 4 quarts of water with some kosher salt to a boil. Add potatoes and let cook until tender, about 15-20 minutes.

Meanwhile, cook the bacon, chop into pieces and set aside. In a medium sized bowl, combine the ranch seasoning packet, sour cream, salt and pepper. Mix very well and set aside.

Carefully drain the potatoes and leave in pot to cool slightly. Using a wooden spoon, lightly break apart some of the potatoes. Combine all ingredients and stir until evenly incorporated. Serve immediately warm or cover and place in the refrigerator to serve cold.