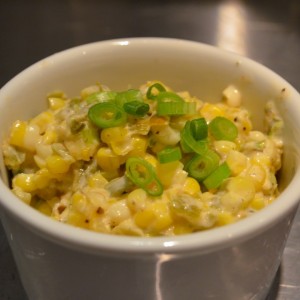 If there's anything we love more than corn, it's the inappropriate and immature jokes about what happens when you eat a lot of corn! However, unlike such tasteless jokes, this side is full of flavor… and it doesn't ruin a good dinner.
This refreshing dish with just a little kick from the green chiles will spice up any meal. So, serve it up, pop open a bottle of wine, and keep your potty jokes to yourself. If you're anything like John, limit your wine intake or the jokes will definitely come out and send your dinner guests running for the door.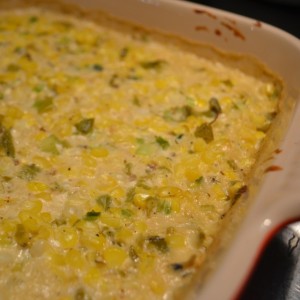 This is our first fan fare post. This came from our friend, Jeff. Who is a fellow Southern gay that knows her way around the kitchen. Jeff even owns an orchard that inspired us to make Kyle's Aunt Lena's apple butter! Expect to see more from Jeff in the future!
green chile corn

serves 4-6
2 tablespoons butter
1 clove garlic, minced
3 tablespoons green onion, finely chopped
6 ounces cream cheese, cut into chunks
1/4 cup milk
4 cups fresh corn, cut from the cob
6 fresh hatch green chiles, roasted, peeled, seeded and chopped finely. You can buy it in the frozen food aisle of the grocery store out of season.
1/2 teaspoon ground cumin
1 teaspoon sugar
salt and pepper to taste
1/2 teaspoon paprika
Preheat oven to 375 degrees.

Melt butter in a skillet over medium heat. Add garlic and green onion and sauté till tender, about 5 minutes. Keep a close eye on the garlic – It goes from perfect to burnt faster than a curling iron on a synthetic, lace-front wig.

Add cream cheese and milk, reduce heat and stir mixture until cheese melts. Remove from heat and pour into a large mixing bowl over corn, green chilies, cumin, and sugar. Season with salt and pepper to taste.  Pour mixture into a greased baking dish.  Sprinkle with paprika.  Bake for 25 minutes or until bubbly.

Let cool and serve.