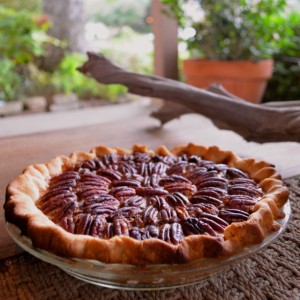 Holy Hell. Every year I dream about and pine for the opportunity to devour the sickeningly sweet nectar of Gods that is pecan pie. I usually only partake in this once a year due to being a person of little no restraint. Annually, on Thanksgiving, I make myself miserably ill by "big-girl" bingeing on all the horrible, unhealthy deliciousness that resides in this gooey dessert.
Previously, if you had told me there was a way to make pecan pie any better, I would've karate chopped you in the throat for talking such foolishness. However, my eyes have been opened, and it can be done. We told you about our smoked apple cheddar pie a couple weeks back, and this little beauty of a recipe was one of the fruits of that day as well.
Do not forget the drunken whipped cream. DON'T DO IT!

smoked maple whiskey pecan pie
makes one pie
1 ½ cups pecans, toasted* and chopped, plus an additional cup of whole toasted pecans for topping
1 cup white sugar
3 tablespoons brown sugar
1/2 teaspoon salt
1 cup corn syrup
3/4 teaspoon vanilla
6 tablespoons butter, melted
3 large eggs, beaten
2 tablespoons maple flavored whiskey or bourbon**
handful of hickory wood chips for smoking, soaked in water
*To toast pecans, bake on a cookie sheet at 375 degrees for 8-10 minutes or until just beginning to brown.
**If you can't find maple liquor, you can substitute regular whiskey and add a tablespoon or two of maple syrup OR a teaspoon of maple extract.
Set smoker for indirect cooking at 400 degrees.
Line a floured pie dish with rolled out pie crust, and either tuck and crimp or trim overhanging edges. Pierce bottom of crust several times with the tines of a fork. Pour the chopped pecans into crust.
Combine all other ingredients, besides wood chips, into a large bowl and whisk until well-combined. Pour mixture into pie dish over pecans. Next, working in circles from the outside edge in, lay whole pecans in a single layer in whatever pattern you'd like.
Add chips to smoker, wait 5 minutes or so, then add pie and cook for 45 minutes to an hour. Or until middle is no longer "jiggly" and the crust is browned. If you find your crust is browning quicker than the pie is setting, you can place a sheet of foil under your dish and lightly wrap the edges up over the edge of your crust to slow down the cooking process.
Let cool and serve with ice cream or drunk whipped cream.
drunken whipped cream
makes 1½ cups
1½ cups heavy whipping cream
2 teaspoons vanilla extract
1/4 cup white sugar
1 tablespoon (…or 2) bourbon We used Crown Royal Maple®
Place the bowl of a stand mixer or large mixing bowl in the freezer for 20 minutes. Take out, add all ingredients and whisk on high speed for 3-5 minutes or until thickened and a nice whipped consistency is achieved.
Serve on practically any and everything.